27 Jun

Taking Pride in Pride
June 2022 marks 50 years of celebrating Pride in the UK. While Pride month is an opportunity to support and celebrate the LGBTQ+ community, it is also a timely reminder that we should still do more to ensure that individuals are free to embrace their true identities at work all year round.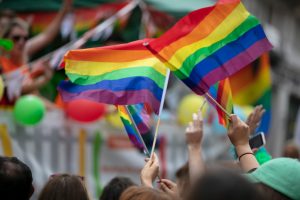 Workplaces have started to recognise the value of celebrating diversity, inclusion and allyship. In every sense, it feels like we're evolving. But still, challenges remain on how best to provide continuous support to employees across the spectrum.
At Ricoh, we are holding a series of educational opportunities to help celebrate LGBTQ+ communities, foster open communication and help create allies. But this activity isn't exclusive to June, we have also established an LGBTQ+ affinity group to make sure we're continuously talking about issues and challenges. 
Through every action taken, organisations need to ensure they're creating change for the better for communities and removing any biases inside organisations. 
Creating a Conscious and Affirming Workplace
Every component of the workplace, whether physical or virtual, now requires conscious consideration and the same is true for D&I.  For organisations to best support diversity and inclusion they should look to engage in continuous dialogue to foster a truly inclusive workplace. 
To ensure inclusivity and acceptance go beyond words and become actions, senior leadership needs to show a continuous commitment to these values. The role of executives is central to an inclusive and open working environment – attitudes, in this case, reflect leadership. 
The implementation of new policies, access to the relevant data, and discussion groups are critical for opening channels of communication which are pivotal in gaining employee buy-in. Ricoh's 'Conscious workplace' report shows that this is particularly important for some employees (26%) and managers (36%) who find communicating with colleagues and teams difficult in the changing dynamics of the modern work environment.
Pride is a way of life rather than a once-in-a-year event
Pride month provides an opportunity for management to lead from the front in encouraging all employees to engage with and learn more about the LGBTQ+ community beyond the month of June.
This could take the form of anything from social events to webinars. At Ricoh, we've found that affinity groups – an open forum for discussion and learning – are a great mechanism to cultivate an environment where employees can share their experiences. 
These affinity groups are a key component of our people-first approach, allowing us to create a dialogue with our employees and implement real effective change. 'LGBTQ+' is our third Affinity Group launched this year, along with 'Gender' and 'Ethnicity', all of which have provided us with an incredible amount of insight, feedback and ideas that are now being discussed at the board level. 
You can hear more about it here, we interviewed Tom Marshall, a member of the new affinity group, to get his take on why this is such an important move. 
Understanding makes good people
Everyone, across all levels of an organisation, should consider the benefits of allyship and inclusivity as an integral component of creating a conscious workplace where employees feel happy, motivated and supported.
From an organisational stand point, gathering quality employee data and insight on perceptions and attitudes is key in understanding your people. And can act as the anchor point from which both training requirements and indeed success can be measured.
LGBTQ+ initiatives are valuable for an organisation beyond Pride as they bring employees together, create a sense of belonging and contribute to a positive employee experience which can permeate into all aspects of both a working environment and personal lives.
June 2022 will be remembered for so many reasons, not least the 50 years of Pride. My hope is that this landmark anniversary will act as a pivotal moment in how both organisations and individuals consider and approach diversity and inclusion.