25 Nov

Why digital print enhancements can help your commercial print business grow
Leading organisations are turning to digital print as a means to re-energise their marketing and point of sale solutions. With the latest innovations and digital print enhancements, brands are finding new ways to excite and engage customers, helping them create more opportunities and growth. But which print enhancements will produce the best results for them, and your commercial print business?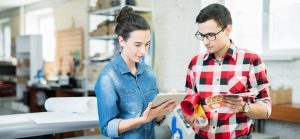 We live and work in a digital world. Everything is online – shopping, streaming, media and advertising. Every channel is now saturated by digital communications. As a result, it's no wonder leading brands are looking for new, fresh ways to reach their customers. And that's why the latest digital print enhancements are proving so effective.
In this article, we'll cover just some of the ways premium digital print can cut through the noise of online marketing and make a real impact.
What are digital print enhancements?
Digital print enhancements are techniques that elevate standard print products into premium print products. In short, they play a key role in persuading your customers to spend a little more through creative and impactful print and can add incredible power and value to your marketing.
Therefore, if you are looking to use print to communicate with your customers, it is critical that you grasp the opportunity to incorporate digital print enhancements.
Why do digital print enhancements present such an exciting opportunity?
Print buyers across multiple sectors are showing an increased appetite for physical media within their marketing. Of course, creative concepts of digital print enhancements have to be sold in the right way. Therefore you need to understand your customer's needs to deliver the right samples or examples that will fire up their imaginations and get them excited by your products.
By combining print embellishments with data, strategy and results, you can pinpoint exactly where your customers should be directing their efforts. As a result, this will help them yield positive results from physical marketing.
Which digital print enhancements should commercial print businesses be considering?
Move beyond CMYK to enhance printing with gold and silver metallic, white inks and toners. Clear varnishes that add texture, and an ever-increasing range of expanding colours. Giving your printers the ability to really enhance what they produce. 
Very often, these "5th colours" and effects can be printed inline with CMYK, such as with the Ricoh Pro C7200X series digital printers. In addition, special effects such as foiling can be applied later to add further value.
How do digital print enhancements add value?
By incorporating digital print enhancements into your direct marketing, you can surprise and delight your clients. Consequently building a reputation for innovation and ultimately, increase your profitability. In addition, InfoTrends research indicates margins can be anything from 50% to 400% depending on the enhancements used.
"Why should people pay more money for the same information?" – it is often claimed that print buyers are reluctant to spend more money for print embellishments. However, research suggests this is a myth, with data showing that buyers are willing to pay a premium of almost 90% for digital print enhancements.
Work with a people-first partner to ensure best practices and results
One of the best ways to take advantage of this new opportunity in digital print is to work directly with a collaborative, people-first manufacturing partner like Ricoh.
Ricoh has years of experience at the cutting edge of print devices and techniques. Specialising in working alongside your business to develop the right strategy for you, your people and your customers. Integrating effective digital print solutions and print enhancements for your organisation.
Click to read Anything in Print
Article originally published in Printweek July 19th 2021.