01 Nov

​​Managed Print Services – how digital solutions create clear and measurable improvements in sustainability
Sustainability has been part of a global conversation for a long time now. As nations continue to discuss climate change under increased public pressure, so too must businesses meet the expectations of their customers – and Managed Print Services can help.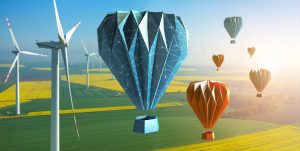 Long gone are the days when a company could simply switch to energy-saving lightbulbs and install a few recycling bins to 'do their bit for the environment'. Since September 2020, over 1,500 companies have pledged to ambitious net-zero carbon targets, as the global climate conversation begins to impact local laws and customer demands.
Today's businesses – not just tomorrow's – need to consider sustainability as a vital pillar in their planning throughout their entire organisation, including their print solution. In this article, we'll be discussing Print Sustainability. How a sustainable print solution is designed to be efficient and more environmentally friendly, not just in terms of usage, but also in its production and disposal at the end of its lifecycle. 
What is Print Sustainability?
Print Sustainability involves responsible business practices that meet customer expectations and global social, environmental, and resourcing needs. It considers future generations, not just in terms of people, but also the shelf-life of devices and of incorporating new and more efficient technology in the future.
In short, it's much more than just using recycled paper.
What challenges are business leaders facing with Print Sustainability?
New research, led by Ricoh Europe, shows that 69% of business leaders in the UK and Ireland believe that corporations have a responsibility to respond proactively to global challenges such as climate change. Yet most fail to see how digital solutions can help meet those responsibilities while also improving business performance.
The truth is, digital transformation plays a vital role in helping your business meet its sustainability goals. Nearly half of all organisations have introduced cloud technology (44%), hybrid working (50%) and big data (46%) solutions. All of these improve energy efficiency and help your company work together on issues of a global scale. You just need to identify which are the right digital solutions to incorporate for your organisation and your people.
How should you incorporate Print Sustainability into your business strategy?
The latest multifunctional printers are a key cornerstone for both today and tomorrow. They can turn tedious tasks and paper trails into efficient digital processes, cutting down on waste and take less energy to complete. Especially if they were designed with a 360° approach to sustainability.
It all comes down to digital transformation. Evolving your organisation to incorporate modern day digital solutions that automate business-critical decisions, improve productivity, and enhance security. As well as improve the sustainability of your processes and practices.
What is a 360° approach to designing sustainable print devices? 
Established print device partners consider sustainability a core part of their design principles. When you're searching for the right device for your business, here are some of the innovative features you should be looking out for:
Human detection sensors
Human detection sensors allow your printer to automatically calculate whether it should be in sleep mode or ready for action. This means your printer consumes less energy during periods of inactivity. Therefore reducing both your carbon footprint and running costs, while still being available to your people when required.
End of life services
The best print partners will work with you to specify the right products and maintain an ongoing relationship with your organisation. They'll be ready to remove, recycle and replace consumables like ink cartridges. Reducing the rapid increase of eWaste reaching landfills. Supporting you when devices reach the end of their lifecycle through programmes like Ricoh's Sustainability Management Services.
Staple-less finishing
A neat finishing option that allows you to create bound documents without needing staples. Instead, the device will crimp the corners of pages together using serrated metal teeth which bind the papers together and hold them firm. This reduces the complexity of print production and creates documentation that is easier to recycle.
Choosing the right partner for print sustainability
Your choice of print partner will significantly impact your ability to introduce sustainable print processes and practices to your organisation and reduce your carbon footprint. So how do you know who to pick?
Find a partner that emphasises running costs, employee engagement campaigns, buyback carbon output schemes and end of life recycling. And most importantly, one that shares your values. Both as an organisation and as part of the global fight against climate change.
Ricoh, your people-first Managed Print Service provider
Ricoh has years of experience in understanding the vital role office print plays in an organisation – including sustainability.
As a Managed Print Service provider, we specialise in analysing the needs of your business. Identifying the right solutions for both you and your people. Helping to integrate them seamlessly into your workflows – ensuring your people know how to make the most of them.
And we don't stop there. We offer ongoing support to make sure you get the most from our collaboration, and that your people work happily and productively to produce their best work for your business – all backed by a long-term commitment to sustainable business practices, including the implementation of 100% renewable energy at A3 multifunction printer production sites worldwide.
Finding your perfect Managed Print Solution
Learn more about Ricoh's support values with our 'Finding Your Perfect Print Solution' guide.