01 Dec

How the future of digital print is being shaped by customer demand
Online shopping. Environmental awareness. On-demand services. These are customer demands that have been on the rise for years – but now they're accelerating. The future for digital print is this: take the opportunity to evolve to meet these demands or fall by the wayside.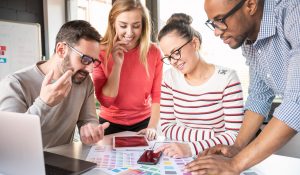 It isn't news to anyone that climate change is at the top of the global agenda, and will continue to be for the foreseeable future. Increasingly, it will have dramatic effects on customer demand. Not just from their government, but from brands, suppliers and each other.
You'd be forgiven for thinking that this would create a problem for the print industry. In reality, it presents a fantastic opportunity for leading print businesses to converge innovation with future digital print technology, applications and partnerships to deliver a premium service that meets the priorities of today's society.
The performances of different companies or sectors are diverging. Those who can and have adapted are arching upwards, those unable or unwilling to adapt are trending down. This article will help make sure your digital print business is on the up.
What do your customers demand from digital print?
Customer demands are the cause of this divergence. Certainly online purchasing has accelerated over the past two years, and to a very large degree, won't return to what we consider normal. Digital printers must build a stronger online capability and back it up with automated processes to be able to thrive. 
Customers demand less plastic, less gloss, and more of a rustic, natural look and feel. In print, we are seeing this manifest itself in the increased use of uncoated papers for general marketing collateral – such as brochures and catalogues. 
Printers and agencies are telling us this is happening. Secondly, paper manufacturers confirm the growth in uncoated paper usage too, causing them to adapt their own operations to produce the required natural grades.
How is the digital print industry adapting to change?
The print industry has always pointed to digital print and on-demand as a great counterpoint to the environmental pressure our industry is facing. Today, there is the capability and technology to do smaller and more targeted runs, so there is less waste. As a result still being effective at reaching the right customers with the right message.
The development of hyper-local print markets takes the argument even further, augmenting the carbon-countering message. Platforms such as Gelato and Printify offer an example of digital technology, allied to the convenience of online purchasing. This now means a product designed in one part of the world, printed and delivered to a customer in another, the same or next day. 
These trends and capabilities send a strong signal about the need for digital printers to think about sustainability as they shape their service propositions in the post-pandemic world.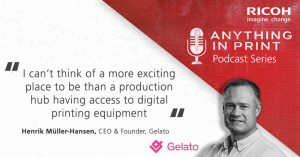 Listen to Ricoh's Anything in Print podcast with Gelato
How is the future of digital print enabled by technology?
Printers can get great results on the more sustainable paper stocks your customers demand, thanks to the print engine improvements that different vendors have achieved. For example, Ricoh's Pro C9200 digital press includes a matt fuser option that allows users to produce offset-like quality on uncoated papers – delivering a premium finish while being more environmentally friendly.
Alongside this advance on the Ricoh Pro C9200 is a feature called Auto Colour Diagnosis (ACD). It controls colour stability and image quality to reduce production errors and ensure customer satisfaction, which ultimately reduces waste. All strong factors in the approval of the on-demand, online print market, as well as improving environmental performance.
Work with a people-first partner to ensure best practices and results.
Customer demands have always varied. But in today's online and connected world, there's no doubt that there's an acceleration of change and expectations. Ricoh has years of experience at the cutting edge of print devices and developments. Specialising in working alongside your business to develop the right strategy for you, your people and your customers.
We can help you be more agile and find greater uptime and efficiency. In addition, lower costs, provide speedier ROI and make the most of your devices and services. Together, we can embrace new customer demands through innovation, insight and experience – and help your business thrive.
Article originally published in Printweek September 20th 2021.