20 Oct

How can software boost agility within your print business?
The importance of being able to adapt has been demonstrated in the past 18 months – it's clear, now is the perfect time to ensure your business has the technology it needs to thrive. Right now, print businesses need to be exploring the benefits of software – if you find the right solution, it can form the foundation of future growth and profitability.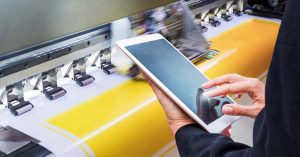 Agility: once a corporate buzzword, now, an objective on business plans everywhere. Many print businesses are looking to digital technology and software to elevate their operations and boost agility, aiming to save time and cost, enhance productivity and maintain their competitive edge.
For some in the print industry, exploring new software solutions is a natural continuation. Inhibitive in-house systems had already forced business leaders to examine the power of digital technology. Now the market demands cost-effective software, which has a strong foundation to build on, that is flexible enough to meet their unique requirements and scalable to support future business growth.
What to look out for in print software
Businesses should be searching for proven, off-the-shelf solutions they can adapt as required. Choosing a service provider is an important consideration too. Your provider should be prepared to react quickly to meet unique needs and work collaboratively with internal teams to identify the right solutions to the right challenges. 
Technically, workflow and MIS software must be flexible, scalable and compliant in terms of security and data handling. It also must be capable of running within the cloud or on-premises depending on preference. Crucially, print software should be designed to afford better visibility over operations, and offer data intelligence. Optimising processes is valuable, but knowing exactly how long processes take can identify opportunities for improvement. 
How to choose a service provider
Finding the right technology partner can help your business both in the short and long term. It goes much further than the product offering that the partner can initially put in place. Print businesses should aim to partner with a company that can take both a strategic and tactical view, focusing on the bigger picture of the company's growth and development and the more immediate day-to-day demands.
Beyond this, the ideal software partner will be open and transparent and capable of undertaking a more wide-ranging systems integrator role. They will recognise when a company already possesses high-value systems and tools built upon and will be prepared to introduce and manage a third-party application integration if their products do not solve the dilemma.
What to expect during software implementation 
Customers often fear that requesting tailored adaptations to an off-the-shelf solution will mean long lead times before implementation. But this need not be the case. In our experience of tailoring our software to customer needs, the implementation time should be no longer than six weeks from the start of the project. Speed of delivery, even for tailored solutions, should not be a problem.
Nor should cost. Out of the box, the Ricoh Process Director software is a simplified PDF workflow. It can meet the needs of every organisation, from a small to medium-sized print business, right up to corporate enterprises and retailers. It is modular and is deployed on a 'pay for what you use' basis.
Businesses need to be agile. Software can deliver it
Being ready for the unknown has become as important as drafting a thorough strategic plan. The shocks of the last year and a half have made this point forcefully, sparking many printers into bringing workflow and software plans forward. They have discovered that getting the right software application and the right software partner can profoundly impact a business's ability to quickly adapt to changing market demands and position itself for profitability and growth.
Article originally published in Printweek August 17th 2021.
How can we help
Learn more about Ricoh print software including our Process Director Workflow and the Avanti Slingshot print MIS.
And for an extra agility boost, check out our free, downloadable ebook covering the top ten time-consuming tasks you should automate.