16 Aug

Managed Print Services – offering vital support to enhance your business and empower your people

When it comes to Managed Print Services, support means much more than just lending a helping hand. It means collaborating with organisations through a breadth and depth of tailored solutions to maximise the opportunity of digital transformation.

Managed Print Services work with you to develop a digital strategy that incorporates print, scan and paper workflows into your wider processes and practices. They help you identify the strengths and weaknesses of your organisation and use their expertise to provide the right solution for you and your people – whether at home or back in the office.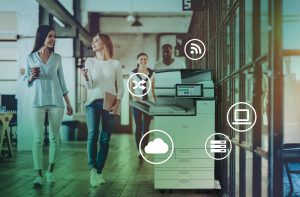 And then, perhaps most importantly, they continue to work with you to implement and integrate new processes, practices and technology. Offering ongoing support to ensure you get the most out of the opportunity that lies ahead. In this article, we'll take a look at the key areas where Managed Print Services can support your business.
What do we mean by support?
For most people, support – especially in a professional context – means customer service. And, from faraway call centres to confused chat bots and tedious instructions, we know all too well what this feels like when it's done wrong.
For Managed Print Services, support goes far beyond that, becoming a full end-to-end consideration throughout your partnership. It's about supporting your organisation as it identifies the right digital strategy moving forwards, helping you implement that strategy. then ensuring your people can perform their jobs to the best of their abilities.
Why is support vital now and in the future?
For your business, global challenges have encouraged greater collaboration between different organisations, waking us all up to the fact that we aren't alone, and that working together can help us get a healthy slice of a much bigger pie. These learnings won't disappear, and it's important your business keeps up with how things have evolved.
For your people, hybrid working practices are also here to stay. Does your organisation have the right solutions and processes in place to support your people? Can they work effectively whether they're at home or in the office? Managed Print Services can help make sure that it does.
How will a Managed Print Service support you?
Let's take a look at some of the key specifics of what Managed Print Services can support you with: 
Technology
Do you have the devices and programs your people need in order to work productively wherever they are? Are your current solutions updated with the latest security software? Is your print room stocked on paper and toner? Your Managed Print Service partner can take these tasks out of your IT team's hands and sort them for you.
Productivity 
Once you've got the right things in place, it's vital that your people know how to make the most of them. Managed Print Service partners will work alongside your people, offering training, support and advice to help ingratiate them with new and better ways of working.
Experience
One of the most valuable aspects of engaging with a Managed Print Service partner is the wealth of experience they bring to the table. Current trends, the latest solutions and technical expertise will all be at your organisation's disposal throughout any relationship.
How will a Managed Print Service support your people?
Equally importantly, Managed Print Services can offer key solutions to support your people:
Technical support
Engaging with a Managed Print Service partner can ensure your people have access to the software, documents and devices they need to work productively in the office, at home, or on the move.
Security
If your people are accessing your documents from multiple locations and devices, they need to know they're doing so safely and securely. The support of a Managed Print Service partner can offer that peace of mind.
Connectivity
We've all had to adapt to new ways of working together in the past 18 months. Virtual meeting rooms, chat solutions, and digital document storage and retrieval have become commonplace in our lives. As we move forwards to more hybrid working models, with some at home and some in the office, we again must adapt to provide the right support to our employees. A Managed Print Service partner can help you find the right balance.
Ricoh, your people-first Managed Print Service provider
Ricoh has years of experience in understanding the vital role office print plays in an organisation.
As a leading Managed Print Service provider and workplace systems integrator, we specialise in analysing the needs of your business, identifying the right solutions for both you and your people, and then integrating them seamlessly into your workflows –  ensuring your people know how to make the most of them.
And we don't stop there. We have a UK-based contact centre and hold a Customer Service Excellence Certification, offering ongoing support to make sure you get the most from our collaboration, and that your people work happily and productively to produce their best work for your business.
Finding your perfect Managed Print Solution
Learn more about Ricoh's support values with our 'Finding Your Perfect Print Solution' guide.
Click to read Finding your Perfect Office Print Solution