26 Jul

Managed Print Services – how Cloud Print delivers cutting-edge innovation to your business

Print has long been at the heart of many organisations. Across industries, people rely on print to carry out their job to the best of their abilities. But office print alone can no longer meet the needs of today's hybrid workforce. Therefore, innovations like Cloud Print provide the answer for managing information efficiency and effectively.

The world has changed. Business has changed. Print has changed. And after more than 18 months adapting to the challenge of a global pandemic, our perceptions of how and where we work have changed.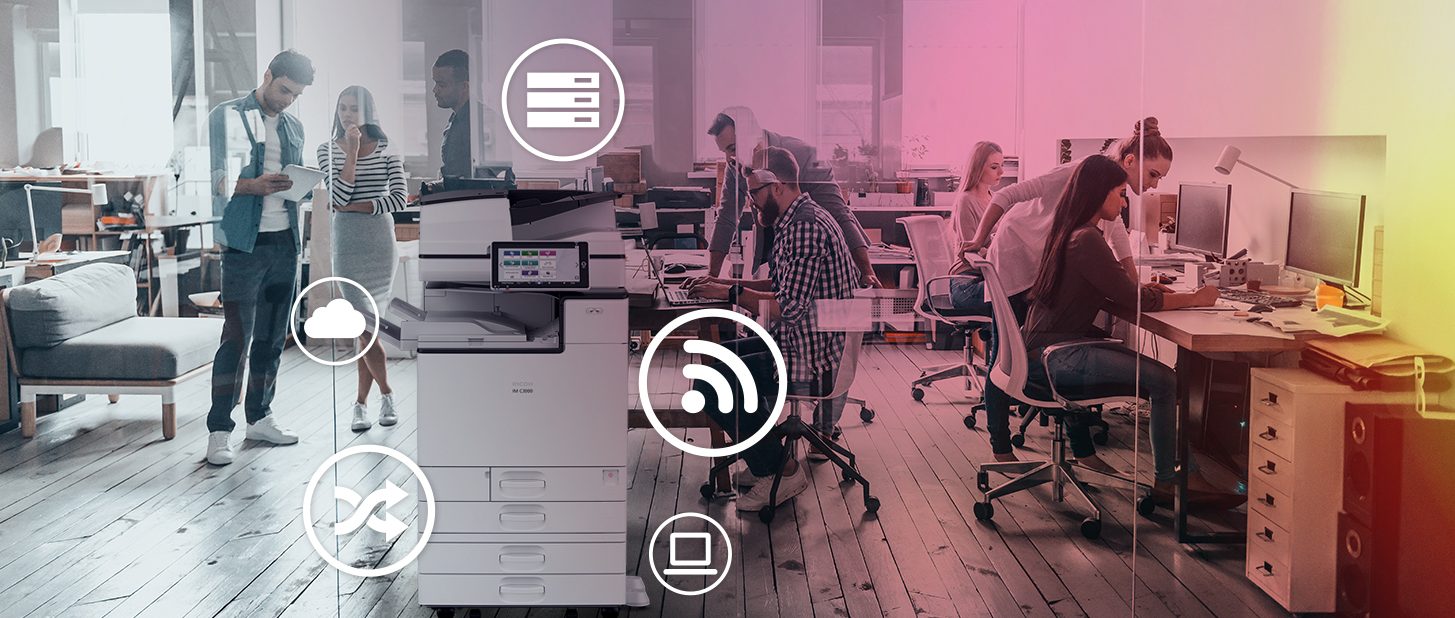 Because in that challenge came opportunity. Opportunity to adopt new practices and processes that empower our people to work better and smarter wherever they are. Hybrid working is set to stay; indeed, UK businesses anticipate that 53% of their workforce will be entirely mobile by 2025.
It's vital that your organisation embraces this change – and innovations like Cloud Print are key in doing so.
Why is innovation key to future success?
Innovation is your organisation's process for introducing new ideas, workflows, methods, services, or products. It is also how you, as a business, meet the needs of both your people and customers to deliver excellence, enhance productivity and drive growth.
Innovation is rated as the top driver for success in 2025, yet fostering an innovative culture is the top-rated challenge among businesses. And in a world where digital transformation is an essential and ongoing process, technology is advancing at an ever-increasing rate, it is easy to see why.
What is Cloud Print?
Cloud Print is a service that allows your people to print from any device on your network: be it their smartphone, laptop or tablet, their home PC, or office workstation. But this doesn't only mean they can access your print solution wherever they happen to be working that day.
No, perhaps more importantly, it means they can remotely access a range of digital and physical print services to meet their daily needs – and the needs of your customers. Not only can your people get something printed at the office or your dedicated print room, with total control over composition, quality and signature, but you can also ensure documents are securely distributed digitally via email or integrated document solutions.
How will Cloud Print empower your people?
Adopting Cloud Print through a Managed Print Service will help your organisation enjoy greater productivity, flexibility and security. At the same time you will remain at the forefront of innovation for information management.
More freedom for your IT teams
As Cloud Print is a Managed Print Service, the responsibility of print is alleviated from your IT department – allowing it to focus on more profitable or productive activities. Updating printer drivers, editing printer profiles, implementing print policies or assigning printers to users becomes easy for administrators to manage through a single touchpoint.
More flexibility and security
Cloud Print platforms enable a hybrid workforce to meet their print needs on the move through any device. Accessed safely and securely through user authentication, while most Cloud Print platforms are hosted by public providers such as Microsoft Azure. Offering greater assurance through their inherent resilience and security features.
More innovation
Cloud Print platforms are scalable and will adapt dynamically to inevitable future changes and evolutions. As we evolve and adapt to meet new challenges and embrace new opportunities, so too will Cloud Print. Not only does this build greater business resilience for your organisation, but it also allows you to rapidly stay relevant for a hybrid workforce.
How will Cloud Print help your customers?
Business has changed. So have we, as individuals and as a society. Our demands are different now from even five years ago. The technology that we rely on in our day to day, that have become commonplace and integral to our lives, has evolved, and is continuing to evolve dramatically.
Every industry must adapt to this reality. A major stepping-stone is moving to a service-centric model through digital transformation. Introducing practices and initiatives that, through a culture of innovation, enable your organisation to drive relevance for modern customers; not just reacting to new technology, but staying at the cutting edge.
Cloud Print through a Managed Print Service is a key part of this process.
Why choose a Managed Print Service?
Print is central to the new era of digital transformation. Organisations must move towards more software and service-led business models to meet the demands of our people as a hybrid workforce, as well as a new generation of customers. They must also follow the evolution of technology which provides greater productivity, profitability and business resilience.
Managed Print Service partners are key to embracing this shift and ensuring future success. These partners have already proven their expertise in digital transformation and Cloud Print – and will again prove to be strategically important moving forward.
Ricoh, your innovative print provider
Ricoh has years of experience in understanding the vital role office print plays in an organisation.
As a Managed Print Service provider and technology partner we specialise in analysing the needs of your business. We do this by identifying the right solutions for both you and your people. Only then do we proceed with integrating them seamlessly into your workflows. By working closely with your internal team we ensure your people know how to make the most of them.
And we don't stop there. We offer ongoing support to make sure you get the most from our collaboration, and that your people can work happily and productively to produce their best work for your business.
Finding your perfect Managed Print Solution
Learn more about Ricoh's office print innovation values with our 'Finding Your Perfect Print Solution' guide.