17 May

Office print security – why it is so important and how to protect print devices in your organisation

Every connected device on your organisations' network is an opportunity for cyber-attacks and malicious activity. A lot of attention is given to laptops and mobile devices but often the security of office print devices, both at home and the workplace is overlooked.

Office print devices are no longer the one-dimensional products of the past. Today they have the functionality to accelerate multiple business-critical processes. They've become a staple part of any modern-day office and have become core IT assets in their own right. Their computing capability has grown significantly and their accessibility to both on-site and remote workers has transformed productivity and flexibility.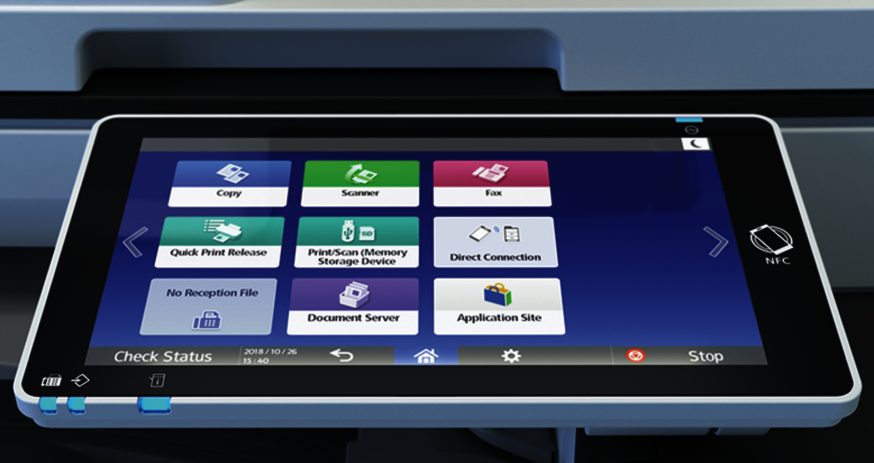 But this growth in use and flexibility has also increased the potential security threats. A survey by IT analyst Quocirca found that 63 per cent of companies surveyed suffered at least one printer-related security breach.
Discover some of the key security threats to your office print devices and the steps to take to ensure they are made safe and secure.
Why office print security is so important now
Organisations are still very reliant on office print in their day to day workflow. With the arrival of the digital office, many thought the need for office printing would lose relevance. But as businesses have transformed and productivity expectations have increased, office print manufacturers have embraced product innovation to facilitate new levels of interaction and communication. 
Office print devices now use cloud technology to support fully accessible workplaces. Whether that's for individuals within the office environment or for remote users connecting to devices externally. Today's workplaces rely on the ability for users to seamlessly connect to other users, software or services via a cloud network. In the same way, they also connect to office print devices to print, scan, send and receive mail.
Productivity software such as document management further accelerates the need to provide this level of accessibility. So the security of connected print devices is vital.
What are the potential security threats for office print?
Threats to office print security fall into the following four categories;
Theft of printed assets from the document tray or being able to access previously scanned documents from the memory

Remote cyber-attacks that aim to make the system fail by submitting phoney print jobs to using the device as a Trojan Horse to launch DDoS attacks by hackers

Network vulnerability due to an unsecured print device that can leave the entire organisations network at risk

Data breaches of secure information such as customer data, confidential documents and financial details caused by hackers or internal agents getting access to the printer cache
For this reason, organisations need to ensure they have a strategy to enable them to maintain a secure office print estate across their entire organisation.
Discover the four steps to securing your office print devices by reading our handy security guide.
Click to read 4 Steps to Secure Your Multifunction Printer
How the latest office print devices provide greater security
Modern office print devices use innovative technologies to provide enhanced protection against security threats. As a standard you need to ensure your print supplier can offer the following;
The ability to lock down printers
Access control, authentication, and other built-in security features ensure only authorised individuals have access to specific printers. Access can be provided and recorded via the use of individual pin codes, proximity badges, security cards and tags for individual users.
Printer and data encryption
Built-in encryption and Data Overwrite Security enhancement are incorporated to ensure all data passed from the device to the network is encrypted. Any temporary data stored on the device is overwritten.
Device management
Modern office print devices now utilise advanced technology and automatic software updates to ensure optimum protection from digital security threats. Being permanently connected allows the device to ensure it's always running the most up to date software.
End of life cleansing and disposal
Redundant hardware requires careful management. Just as you would wipe any laptop clean before disposal, office printers must be managed in the same way. Your print partner will provide certificated end of life cleansing or hard drive removal to ensure all data is removed prior to disposal and recycling.
How to find your perfect and secure office print solution
Making sure you have secure office print devices is essential for the future security and safety of your organisation. That's why it's important to find a print solution that suits your organisation and a partner who understands and values the importance of security.
Different print partners have different methods for ensuring the security of your print devices. We encourage you to survey the market for one that matches your business's values.
We value office print security
If office print is a crucial part of your business then you need to trust that it is safe, stable and secure.
Learn more about Ricoh's office print security values with our 'Finding Your Perfect Print Solution' guide.
Click to read Finding your Perfect Office Print Solution