23 Oct

What mail and print room transformation trends are businesses embracing?
Mail and print rooms provide essential services to many organisations. So, what actions can be taken to optimise their performance, minimise real estate overheads and balance ESG obligations?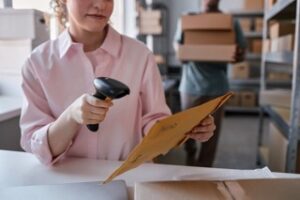 Working with many organisations, we've seen that they often have complex legacy systems and processes in their mail and print room real estate that need to be more transparent, centralised and enhanced. Therefore, the challenge facing CIOs, Finance Managers, and Procurement Managers is this:
How do you rationalise expensive real estate, centralise mail operations, and overcome legacy systems?
This is essential to enhancing the service delivered to internal and external stakeholders.
We have observed several transformation trends that companies are acting on to optimise their mail and print rooms to achieve just that. They are: 
Enhancing their data integrity and compliance to address government legislation and investor pressure. 

Improving efficiency through consolidation to mitigate rising operational costs.

Focusing on environmental efficiencies to achieve ESG obligations.
By recognising these trends, they have overcome many common challenges, such as underutilisation, little or no integration, suboptimal sustainability strategies (which are impacting profit), and difficult-to-access or poorly secured data. 
Driving transformation in your mail and print room real estate
Below are three instances where we've helped a large UK Financial Services organisation to successfully transform and optimise their mail and print rooms.
1) Addressing integration, consolidation, and optimisation issues
Key objectives were to drive efficiency and optimise the use of resources — particularly for the mail room and print room real estate. This was complicated by the post-pandemic working landscape, which has moved largely towards hybrid working models and impacted physical occupancy. 
Here's the challenge as described by the Finance Director:
"Our mail and print rooms across the UK are expensive, overstaffed, and underused. We have legacy systems and processes we don't fully manage or control." 
Our solution
Collaborating with our customer, we created a centralised mail and print hub that consolidated their workflows. We did this by conducting multiple site visits and facilitating alignment across 32 sites by holding 17 workshops. Following these meetings, we provided a detailed (80-page) report of findings and recommendations, broken down into short, medium, and long-term goals.
As a result, the organisation minimised inefficiencies, implemented cost savings, and freed up staff and real estate by taking control of legacy systems. 
2) Meeting ESG targets and minimising environmental impact
An efficiency and sustainability strategy can boost operating profits by as much as 60%. Similarly, investors, customers, and potential employees are now more attuned to the appearance of greenwashing. So, it was vital for our customer to demonstrate a tangible ESG commitment and keep costs down. 
Here's what the Head of Real Estate had to say:
"Excess real estate has led to higher energy costs, increased emissions, and a larger carbon footprint. This does not align with our company values and prevents us from meeting our sustainability goals. Firms are no longer seen as a good prospect for investors if they don't take sustainability seriously."
Our solution
We helped our customer design a data informed ESG strategy by providing them with key insights including accurate paper and energy usage figures. Consequently, they've made their mail and print rooms more energy efficient and have lowered emissions and cut costs. 
3) Maintaining data integrity across processes, while ensuring effective data access management
Failure to comply with regulatory requirements can result in prohibitive legal penalties. Under GDPR legislation, the Information Commissioner's Office (ICO) can now issue fines of up to 4% of a company's annual turnover, or £20 million (whichever is greater) for the worst data breaches. 
So, it's not surprising that our customer wanted to protect their organisation's data, while simultaneously streamlining access and use for authorised employees. Their IT Director explained:
"Our customer data is held in multiple legacy systems. We are at risk of non-compliance to data privacy regulations which can lead to fines, reputational damage, and loss of customer trust."
Our solution
We integrated their processes and systems to move beyond the legacy issues that put them at risk of non-compliance. Using Ricoh's centralised document retention and archiving, they now maintain a secure and accessible repository of customer communications, ensuring customer data is secure, traceable, and compliant.
Rationalising your mail and print room real estate
Leveraging Ricoh's Business Process Management (BPM) consultancy and solutions will help your organisation optimise its processes, cut costs, help you reach your ESG goals, and ensure compliance. As a result, you will build organisational and reputational trust. If you're unsure where to start, Ricoh can help you enhance your digital maturity and identify areas for growth and improvement.

What to do next?
By identifying your strengths and areas for improvement, you can make better-informed decisions. Doing so will help you drive operational efficiencies and make significant process improvements. Complete our 5-minute multiple-choice survey to instantly receive a personalised report. We'll explain your current digital maturity across key areas of your organisation, and provide tangible, actionable recommendations.
Complete the Digital Services Maturity Indicator