27 Apr

How smart storage lockers can support a safe and secure return to the workplace

Your business may have proven it can survive home working but are you prepared for hybrid working? Office-based smart lockers provide self-service storage, contactless deliveries and protect valuable business assets. 

To make the hybrid workplace a reality, organisations need to think carefully about how their offices function. Especially when it comes to the basics like personal storage and internal and external deliveries. In the present working climate, you can't rely on your team being at the same desk every day. Team members might be homeworking for half of the week, and on different floors entirely on some days if hot desking is in place. 

With your team spread across locations, ensuring your people receive post, parcels, stationery and IT equipment becomes twice as hard. Providing a contactless fulfilment option means business administrators and staff members can deliver and collect goods at a time that suits them. Ricoh Smart Lockers offer this opportunity. 

Designed to support secure digitised processes, they also allow organisations to trace usage and resources. This gives you all the data you need for agile planning and safety reporting.
Keyless and efficient smart storage lockers
Smart storage lockers are fitted with remote locking. This allows keyless and contactless entry using a personal code or company ID card. This eliminates any issues relating to lost keys or administrators being locked out of lockers. From experience, you'll know immediately that this can be a huge timesaver.
Having a secure location for personal belongings is psychologically reassuring to employees. It is hugely beneficial for organisations that may be required to trace the specific movements of an individual. But choosing smart storage lockers also provides longevity for an organisation and its future workforce. The solution can be integrated into every facet of the existing digital infrastructure, rather than dependent on the individual.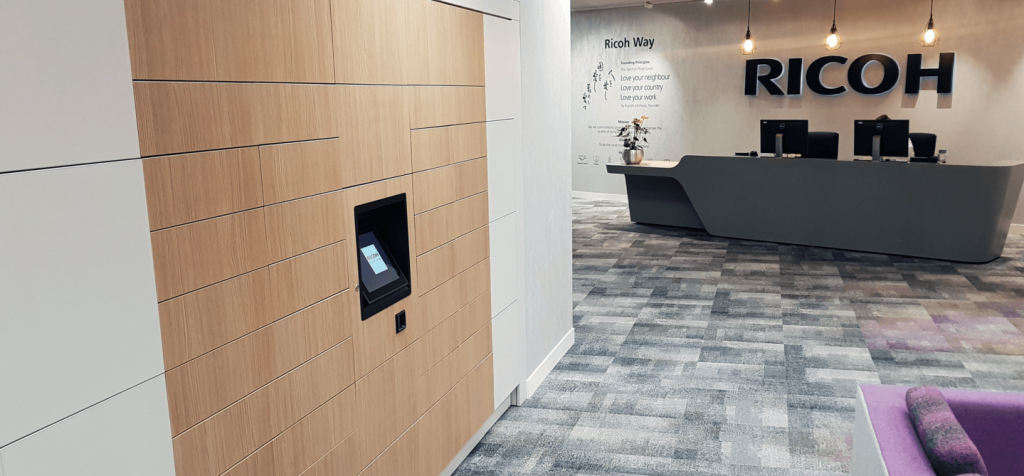 Track individual usage
Another common issue with traditional lockers is usage. Often, office lockers can become underused or completely redundant. This can create bad feelings among those in desperate need of personal storage. Smart storage lockers allow you to reassign lockers with ease. 
This is especially pertinent for individuals who need a smart storage locker for a longer period or if you have different teams sharing the same storage facilities.
Using detailed reporting functions, organisations are able trace individual usage, which means lockers can be quickly cleaned or quarantined. These are all critical considerations in a post-pandemic world, especially as social distancing is still in place. 
"In the face of the Coronavirus crisis, the Ricoh Smart Locker solution has become critical to protecting the Coventry City Council workforce and enabling it to deliver essential services to the community"
Gary Griffiths, ICT Engagement Lead, Coventry City Council
Smart storage lockers can also supply devices and stationery
Whether you're supplying extra pens or notebooks, IT accessories or consumables like coffee machine pods, smart storage lockers enable you to deliver new equipment in a secure way that doesn't involve convoluted management processes. Equally, higher value items like replacement laptop devices can be managed in the same way. In all cases, the items removed from the smart storage locker can be traced to an individual via their unique access code or ID. Meaning better asset management and cost tracking. 
Smart measurement, reporting and financial management
Ricoh Smart Lockers can also be fitted with scales, providing another way to measure the number of assets used. This further improves reporting for the management of your stocks and assets.
The digital backend also means your smart storage lockers can be integrated with financial systems. Meaning goods being supplied to a specific department within your business can be applied to the correct cost centre, improving efficiency.  
Secure the mailroom storage with smart storage lockers
Mailrooms and reception areas are now overrun with parcels and secure deliveries for workers. Not only does this increase the management time and storage burden on the mailroom it is also becoming more difficult to manage the reporting necessary to track and report the item of mail.
As hybrid working makes being available for deliveries harder, this is only set to become more of a challenge for organisations. Smart storage lockers mean business mail can be kept in a secure location until individuals are free to collect their goods. 
Improving efficiency in the mailroom 
Smart storage lockers also automatically manage all the administration process of recording. Contacting the individual when the item was received, and when it was collected. It even sends reminder messages and alerts if it hasn't been accessed in a predefined time frame.
Remote working also poses further issues in this area. If your workforce flexes between different locations or if hot-desking is in use, the mailroom will not always know each employee's exact whereabouts. Smart storage lockers solve these issues quickly and safeguard admin staff from parcel collection mix ups. 
Smart storage lockers – flexible to meet all your needs 
Customisable technology makes it possible to offer tools that benefit your team and create a positive office experience. Smart storage lockers can be fitted with power supplies for charging when they need it most or to keep devices optimised and ready for use by individuals.
When you need to keep a close eye on the products being stored, your smart storage lockers can also be supplied with clear glass doors and ample lighting. 
Find out more about smart storage lockers for office environments 
The consensus across the business landscape is that a hybrid workplace will become more common than ever before. However, companies still need to do all they can to entice their employees back into the office environment, albeit on a flexible basis.
Creating an office environment that champions safety, security and flexibility should be part of any organisation's recovery strategy. Recent studies indicate 26% of employees are prepared to leave their job if their employer fails to accommodate their work-life needs.
Smart storage lockers open the door to versatile hybrid working whilst offering enhanced reporting and better governance over many aspects of the business. 
Looking to the future, consider locking down your business in the right way. 
Click here to learn more about smart storage lockers, how they work and their potential applications.
Click to read Managing Resources