23 Nov

How two UK firms reduced costs and sped up processes by digitising manual paperwork
We hear from two Ricoh customers, a haulier and an insurance provider on how they're 

eliminating manual paperwork

with digital document management. As a result, they are reducing costs, speeding up processes and improving experiences for employees and customers.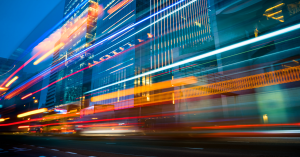 Manual paperwork processes slow down operations and result in a poor customer experience. So why carry on this way? By exploring digital transformation, cloud storage and process automation, business leaders can unlock agility, reduce costs and help staff provide a better customer experience. 
Insurance brokers Alan Blunden and logistics firm S&J European Haulage couldn't be more different, industry-wise. But both businesses have successfully leveraged digital document management with Ricoh to improve outcomes, accelerate growth and build resilience.
Common manual paperwork challenges
Both Alan Blunden and S&J European Haulage generate high volumes of complex, often specialist, manual paperwork. 
Despite widespread digitisation, the haulage industry is still reliant on paper documents to manage and process consignments and distribution. That includes delivery paperwork, vehicle and trailer registration, licensing and insurance documents, and special vehicle or consignment approvals – some containing up to 50 separate documents. In total, S&J produces and processes up to 25,000 pages of documents on a monthly basis.
Alan Blunden creates around 6,000 insurance-related forms, policy papers, letters and customer emails every day – all of which require some form of processing. Operating in financial services also means the business has to meet strict regulatory obligations from the Financial Conduct Authority (FCA), including policy documentation, auditing, compliance, GDPR and document retention.
Finding a solution to manual paperwork 
Our job as digital services partner was to work with specific challenges, identify opportunities for process automation and tailor our digital document management solution to each business' digital transformation roadmap. 
Andrew Jackon, IT Manager at Alan Blunden, commented: "We decided on Ricoh's DocuWare application because it met all of our requirements. It's quick and easy to use, scalable, easy to configure and administer and it has a document workflow component. 
"It also offers good value for money and has a range of API integrations meaning we can customise the system to our needs. Ricoh's approach, advice and subsequent support has proved invaluable." 
Carl Musson, Finance and IT Director, S&J European Haulage remarked: "Ricoh is a highly recognised brand and we've had a great experience with its print products, services and support. When Ricoh introduced us to its document management solution, it was a natural step to work with it to solve our document challenges. Partnering with Ricoh is about reliability, peace of mind and future-proofing our digital transformation."
What were the topline benefits? 
For S&J Haulage, the solution had the greatest impact on specialised logistics documentation. The system enabled the business to automate workflows so documents can be assigned, collated and forwarded for further action, reference and auditing. In the long term, this will reduce operating costs through better efficiency, agility and productivity.
Commenting on digitisation in the haulage industry, Carl added: "I think there will always be a requirement for paper documents, so the Ricoh print service remains a key asset for the business. But as we adopt more digital technologies what is critical is how you marry the need for paper documentation with digital applications to improve business operations."
Like S&J, the configurability of DocuWare as part of a Digital Document Management system has proved game-changing for Alan Blunden. By hosting DocuWare in the cloud, the business has reduced the cost of data ownership, improved resiliency, and now has full control over its data, making FCA audits easier.
You can read more of the benefits of Digital Document Management in our eBook
Transforming workflows for the future
Future-proofing the technology, both businesses benefited from DocuWare out of the box, combined with the ability to write easy API connections to other back-office and legacy systems to create an integrated workspace.
Making better customer service possible, the technology also made repeat business more likely. Alan Blunden's customer service teams can now respond quickly to customer requests for quotes or renewals, bringing up the customer's entire service history at the point of call. Similarly, S&J European Haulage is able to turn around consignment manifests in record time, as well as have the confidence to deliver future customer solutions.
How can you digitise your document workflow? 
On its own, automating document workflows doesn't result in an agile business. However, together with a suite of solutions and strategies, it can underpin any business with the adaptability and resilience needed to make further improvements to customer and employee experience, and to the bottom line.
If you are keen to identify where you can digitise manual paperwork or need to make improvements in your existing document storage and learn what steps to take, we recommend you request a Document Storage Assessment. 
An assessment will give you a clear picture of your current situation and a roadmap for the practical steps you need to take in order to implement a professional digital solution to transform your document storage.