18 Nov

Change in the digital workplace: a beginning, not an end

The digital workplace is an unfamiliar setting for most. For business leaders who have spent a lifetime in an office environment, already complex challenges take on a new dimension. Long-held debates around issues like productivity, privacy and changes to work/life balance have intensified. At the same time, the pressure at board level for quick and decisive action has heightened. Are we at the end of the 9 to 5 office-based era? Almost certainly, but this is more of a beginning than an end.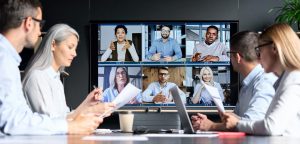 Over the past two months, we have set out to explore how business leaders can start making the most of this new era in our "Leading Change at Work: Devising your digital workplace strategy" advisory report. Businesses have weathered more than their fair share of disruption over the past 18 months. Yet findings from Ricoh commissioned research suggest significant under-investment in some crucial areas, such as technology.
Last year, we released our Conscious Workplace Report dedicated to the impact of the pandemic on the way we work. The report focused on statistics related to both attitudes and challenges. This year, we wanted to examine how the pandemic (and other external factors, such as Brexit) has changed the day-to-day life of employees and managers – gathering insight from different sectors and speaking directly with Facilities, HR, IT, Finance and Operations professionals.
Collaborate to build the big picture
For senior leaders to develop an effective change strategy, it is vital to listen to department heads, invest in skills and enable collaboration. Many business leaders today, particularly those in Finance and Operations, feel a growing burden as a result of internal silos.
A key to success for any business in times of change has always been collaboration. Yet the mass and rapid introduction of hybrid work has made this more challenging. Our research found that many businesses are still operating in silos, with key departments feeling that their needs are not being met and that investment, both financial and in terms of focus, has been limited.
The pandemic demonstrated the power of what can be achieved with cross-collaboration. Many IT, Finance, HR, and Facilities teams found themselves working together with a common goal for the first time – to enable hybrid working and protect the wellbeing or workers. Vodafone's workplace transformation with Ricoh and Coventry City Council's smart locker solution are great examples of what successful collaborations can achieve.
Investing in a long-term digital workplace strategy
Over the past 18 months, virtually every business has undergone some form of digital transformation change that has supported the remodelling, refreshing, and renewing of its approach to working. When done successfully, this digital transformation has enabled businesses to increase their innovation and agility. However, when poorly implemented, the implications can be far reaching and serious.
For finance departments, demonstrating a return on investment with quantifiable metrics helps to make the business case for digital workplace improvement projects. One area of investment that is passing the cost-benefit analysis now is addressing ongoing cybersecurity and data protection challenges. This type of investment comes in many forms, from expert consultancy to advanced technology, but the challenge is clear, and the outcome is measurable. Only through sourcing reliable metrics will finance teams be able to make successful and valuable investments to support employees.
Effective long-term change strategies must factor in the wider business context to be truly effective. For example, strong economic growth and low interest rates can mean more experimental investment, set against higher rates and slower growth which may mean planning for more cost-effective processes. The key to both is in the measurement of newly introduced technology and processes coupled with addressing the needs of a modern workforce. Getting this right leads to greater business agility and better support for employees and their productivity.
The word of the future: flexibility
Remote work has altered employee mindsets for good. Over 400,000 workers in the UK resigned in the three months leading up to September. It's clear that the perception of "normal" has shifted. With an international talent shortage, businesses are feeling the strain to appease all employees – regardless of conflicting demands.
Almost all businesses recognise that they need to enable flexibility to attract and retain talent. But this involves more than a simple amendment to working hours. With more employees than ever working with colleagues in different time zones, global issues (such as supply chain) frequently disrupting working patterns, more innovative approaches are needed. The introduction of workflows, switching from conventional shift patterns or enabling more autonomy are all possible solutions. Only through the introduction of change and effective measurement can you identify what needs best suit your business.
The requirement to shape your business according to needs, to keep up with the times without losing your identity, is certainly a challenge. Organisations need to remain flexible and agile to remain competitive and ensure business growth while attracting and retaining top talent.
While there are still rough seas ahead for businesses across industry and sector, the storms are navigable through collaboration, careful investment, and increased flexibility. Take a look at our "Leading Change at Work: Devising your digital workplace strategy" advisory report, you can find clear guidance to lead your business down the path of greater productivity and security.