09 Mar

Threat intelligence is crucial to your cybersecurity strategy
Organisations, like yours, are fighting a growing number of threats from cybercriminals using increasingly diverse techniques. But despite the worsening landscape, only 9% of organisations have invested in threat intelligence1. Colin Lock, Business Manager in Cybersecurity at Ricoh UK explains why it is crucial to consider a proactive solution.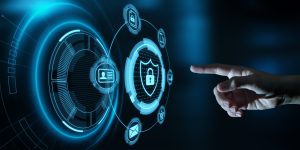 The latest GOV.UK cybercrime survey reported that nearly 40% of organisations suffered damaging cyber breaches in 20212. And around a quarter of those affected said they had recorded threats at least once a week. In situations like this, we often see decision-makers invest in more and more cybersecurity to deal with breaches – usually Anti-Virus products. 
But today's cybercriminals don't attack you with viruses. Most threats happen in plain sight using phishing and impersonation. They say knowledge is power, and the same is true in cybersecurity. 
To protect your organisation, you need more than end-point security. You need to proactively get ahead of attacks.
Threat intelligence gives your organisation the ability to pre-empt and prevent threats before they cause lasting damage to your key operations, finances and reputation. It can identify and monitor threats and even specific threat actors to predict movements and events. And If deployed in the right way, threat intelligence provides actionable advice for decision-makers and a clear ROI.
How does threat intelligence work?
Threat intelligence, in essence, is an organisation or piece of technology working on your behalf to provide intelligence about the cybercrime threats you're facing. As with cybersecurity in general, it can be delivered in several ways, depending on your level of investment and preference. 
You can either access threat intelligence by purchasing a cybersecurity platform enriched with threat intelligence features or by using strategic threat intelligence consultants. They both provide different services. 
Operational threat intelligence – usually delivered through a platform – has the most value in providing daily defences. By working to identify attacks, events, or campaigns, this type of threat intelligence gives specialised insights that help IT teams understand the nature, intent, and timing of specific attacks.
In some cases, threat intelligence can even get ahead of cybercrime techniques by spotting patterns in the behaviour of specific threat actors. 
Using this knowledge, teams can act on events by putting measures in place to mitigate risks and take pre-emptive steps to prepare for what's going to happen next. This can take the form of more security measures for credentials and permissions, staff training or risk assessments.
Machine learning and threat intelligence
Sitting on the leading edge, many threat intelligence products use machine learning techniques to improve data collection and data structure, as well as analyse text across multiple languages and even, generate predictive models. 
By combining data points from many different types of sources – including open, dark web, and technical sources – platforms can paint the most comprehensive picture of your threat landscape, helping to protect your organisation on all fronts. 
This is especially useful in cyber breaches using domain impersonation: those times when you think a domain looks like it's owned by a well-known company, but you quickly realise it's an imposter. Using machine learning, some platforms have the capability to scan the web for possible impersonations and inform your team, and your customers before any damage is done.
Focus on what matters to your organisation 
Having the technology to form a full picture of the global risks is hugely valuable, but focusing on the risks you know you're facing frequently is the sign of successful threat intelligence. It's also important to understand your weaknesses and be aware of the harm that could be done to your organisation. Gartner's 2021 Hype Cycle for Security Operation's report had this to say about threat intelligence:
Threat intelligence services provide an inward-looking viewpoint toward an organisation's infrastructure from the outside. This renewed approach to looking at exposure provides better enrichment for organisations to decide what really matters to them – without having to look at the threat landscape in a more general way and wonder if they are affected.3
As with any other IT or digital project, it is always better to examine your own organisation's challenges rather than seeking answers and solutions from competitors or the wider market. Any cybersecurity solution should be deployed and managed with your specific needs and concerns in mind.
Building threat intelligence into your cybersecurity strategy
As I've already mentioned, there has been a tendency for organisations to invest in one cybersecurity product when threats are on the rise. But with the changing nature of cybercrime, the sheer volume of breaches and the potential losses, it's not enough to do what you have always done. You need a comprehensive and multi-layered strategy comprising many products, approaches and services to defend your organisation in different ways. 
By using threat intelligence, you can ascertain what your strategy should focus on and where your organisation should be pointing its efforts. And the key is to keep updating your strategy. Threats change like trends change. You're competing with cybercrime organisations with much bigger budgets than you might think. To stay ahead of the curve, you need to stay innovative. They have the capital to find new ways to breach your systems and infrastructure.
Talk to the Ricoh Cybersecurity Team today
If you're interested in learning more about what threat intelligence can do for your organisation, speak to one of our cybersecurity consultants or head over to our cybersecurity homepage to discover the solutions on offer. We can help you with operational and strategic threat intelligence. 
Our team has access to industry-leading cybersecurity products, the global scope to provide you with best-class service and is passionate about building cybersecurity strategies fit for the modern digitised world. 
You can also find out more about Ricoh's Cybersecurity experience through our case studies. We work with all industries, including high-risk sectors such as schools and other public sector organisations that nation state actors commonly target.
1. https://www.gov.uk/government/statistics/cyber-security-breaches-survey-2021/cyber-security-breaches-survey-2021
2. https://www.gov.uk/government/statistics/cyber-security-breaches-survey-2021/cyber-security-breaches-survey-2021
3. https://www.gartner.com/en/doc/security-operations