23 Jan

3 reasons retailers need to invest in barcode-driven inventory management right now
An estimated 52% of UK retail transactions will happen online in 20221. The retailers that choose to invest in digital technology will keep pace with growing demand and transform customer experience in the process.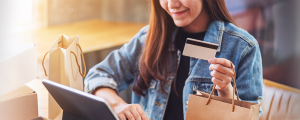 The rise in online shopping has put increased pressure on retailers. And it's not just frequency that is causing challenges. The typical consumer expects real-time tracking, swift delivery and simple return options. Retailers must aim for faultless inventory management and an omnichannel customer experience to meet these expectations. 
Investing in barcode-driven inventory management can help you achieve this. 32% of retailers use systems to support their e-commerce activities that don't interact with their other core systems2, putting customers and staff in the dark. If your business is in that position, here are three key benefits of barcode-driven stock management to consider. 
Barcode-driven inventory management delivers real-time numbers 
Real-time stock management gives retailers a host of options that would otherwise be impossible. When every product item has a unique digital identifier encoded within the barcode, stock levels can be automatically adjusted every time a sale is made, and the identifying code is scanned throughout the process.
Visibility of this inventory database can be made accessible throughout the business, from people working on shop floors to warehouse pickers and head office. The customer interface will also know immediately whether a product is still in stock. The customers will also be able to see via a website or online portal how many, if any, items are left in stock.
This level of real-time inventory information available at every customer touchpoint is a fundamental enabler of omnichannel excellence and ensures customers have up-to-date information. It opens doors to new approaches that blend traditional and modern retail business models, one of those is BORIS.

Supercharge customer experience with BORIS
No, not the Prime Minister. The acronym stands for Buy Online Return In-Store.
Research compiled and cited by Invesp3 shows at least 30% of all products ordered online are returned, compared to less than 9% of in-store purchases. Meanwhile, 92% of consumers say they would buy from a retailer again if the returns process is easy to navigate, and 62% of shoppers are more likely to shop online if they can return in-store.
These new trends open up opportunities for retailers. Increased store footfall due to increased returns has the potential for additional sales, and devising a necessary process for in-store online returns can drive up efficiency. Again, barcode-driven inventory management can provide the solution.
Ideally, the returned product could be re-sold in-store, but both the item and its packaging need to be inspected first to ensure that product quality has not been compromised. This can take place in-store or at the warehouse, and either way, it can be tracked.
Barcode-drive inventory management can also enable customer visibility to track and trace a return, especially if they are waiting for a refund. An essential function when some 30% of consumers surveyed by international eCommerce solutions provider Doddle4 said they would not shop with a retailer again if they could not track a return.
End customers delivery anxiety with online order tracking
Consumers like to know what's happening when they order something online. They may be excited, impatient or simply anxious that a gift turns up in time. Barcode-driven inventory management can offer full order tracking, which can add hugely to their customer experience.
And it could even prevent them from canceling an order. Rightly and wrongly, many consumers experience "delivery anxiety" if they don't know the status of their order. Retailers must do all they can to mitigate this.
To enable online order tracking, systems must be in place to identify each product, using a barcode that travels with the product throughout its journey. This barcode will then trigger communications to notify customers of progress each time the barcode is scanned. From picking and packing right through to delivery, and beyond that, if the product is returned, refunded or replaced.
This is great for the consumer: they know exactly what's going on, and instead of anxiety, they can enjoy a feeling of growing anticipation. It also means that consumers don't need to bombard the call centre with enquiries about their order or refund status.
Invest in technology for future growth
Ultimately if the experience is seamless, customers are more likely to return, and your brand will reap the benefits with better reviews than your competition. You might have some temporary systems in place to keep up with demand now, but in the long run, you can build a resilient basis for future growth by investing in barcode-driven inventory management in 2022.
Discover more about Ricoh's partnership with Zebra and how we can offer a solution to power barcode-driven inventory management.
1. https://www.eversheds-sutherland.com/global/en/what/industries/consumer-law/evolution-of-stores-retail-report.page
2. https://www.tltsolicitors.com/insights-and-events/publications/retail-agility—the-digital-imperative/
3. https://www.invespcro.com/blog/ecommerce-product-return-rate-statistics/
4. https://www.doddle.com/us/the-returns-experience-is-critical/