21 Apr

End-User Compute Is Your Key to Getting Hybrid Working Right
Have you found your employees facing computing challenges? By the end of 2022, an average of
4 million workers,
often referred to as 'end-users', had left their jobs each month. And this trend shows no signs of slowing.
Additionally, research predicts that up to one-fifth of the UK workforce will look for a new job this year in search of better benefits or a higher salary.
So, what does this mean for business?
Now more than ever, organisations are facing a demand from end-users for the latest and best technology. In this candidate-driven market, end-users are leaving to work for organisations that can offer flexible working, enabled by the best technology.
Graduating end-users are about to enter the workforce for the first time. They are drawing clear boundaries and holding their workspace experience to high standards. Further, they are looking for businesses that can offer the best and latest technology. This means that organisations could miss out if they don't evolve.
This phenomenon has been called the Global Skills Shortage, or Mass Resignation. By addressing it, organisations can attract and retain skilled, creative, and diverse talent pools.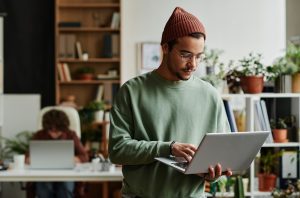 End-User compute challenges
So what obstacles are organisations facing?
The past several years have seen a great upheaval and change in working habits. Despite this, many organisations are still working with end-user devices and applications that pre-date the pandemic and may not meet current requirements. They could be suffering from performance problems, or hardware and technical issues. They may also be having challenges around secure and straight-forward access to data, documents, and information.
In the current landscape of hybrid working, it can be a challenge to ensure all devices are secure, regardless of location.
The transition to Windows 11
The transition from Windows 10 to Windows 11 is gaining momentum. Organisations now face the challenge of replacing devices that may soon become incompatible. Remaining on Windows 10 will leave organisations without the latest security features provided by Windows 11. These features help to protect against the ever-evolving threat from various cyber-attacks. Additionally, businesses will miss out on innovative features designed to enhance employee experience, specifically with hybrid working in mind.
Furthermore, only devices that are running the most current version of Windows 10 and meet the minimum hardware specifications will be able to upgrade.
You may choose to build a plan transitioning all compatible devices to Windows 11 and, where necessary, replace your incompatible devices. This is because Windows 11 has been built to react to a new way of working in a post-pandemic world. It has been designed to boost collaboration across all documents, allowing users to work seamlessly together. It also enhances security across a device, meaning people can work together while protecting users, data, and devices. This protects you against threats by separating hardware from software, protects the OS against unauthorised access to critical data, boasts passwordless security, and extends security to the cloud.
The deployment of these devices can also be a pain point — how, logistically, can you coordinate training, set-up, and distribution when facing an increasingly dispersed workforce? How do you provide a consistent end-user experience for both on-site and remote workers, without compromising on efficiency, security, or employee satisfaction?
Why a custom licence strategy is your way forward
Often, organisations don't understand quite how their licences are being used. They might find that they have too many, or their current ones are not being optimised. There are many benefits to having a custom licence strategy designed by a trusted digital integrator. We enable you to take the pain away, and evaluate the licences you have. This empowers you to act on advice about the most cost-effective licence strategy.
Developing a device and licence persona strategy allows businesses to provide the necessary infrastructure to each employee, based on specific role requirements. Consequently, your end-users will feel empowered, knowing they have the ability to work using a hybrid model. Investing in the latest tech will deliver strong ROI in terms of high staff retention.
Is Device as a Service right for you?
When you need a device, you want to be sure it's in stock and can be rolled out smoothly. Ricoh is a Solutions Provider. We distinguish ourselves from competitors by configuring your devices to order to meet your specific requirements. Specifically, we can offer a Device as a Service system, allowing us to offer you more flexibility. You can scale up and down. You can also update your equipment at the end of your lease period. This is without incurring the costs that would normally be associated with a device refresh.
Ricoh Can Help
You don't need to go it alone. As a trusted IT partner, Ricoh gets the foundations right, from your devices to your security. Our customers trust us to handle all aspects of their IT infrastructure. We're proud to empower their end-users with a better employee experience. We've built strong relationships with leading vendors, enabling us to get the best experience and results for our customers.
If you'd like to learn more about streamlining your end-user compute with a trusted partner, feel free to reach out today. You can also learn more in our handy guide, and assess your current Digital Maturity to identify your business strengths and needs.