06 Sep

Why managed services are key to business growth
About 40% of the working day is occupied with administrative tasks or overcoming technology issues. As a result, our people have less time to focus on projects that deliver real value to the business. Without action and a shift to reduce the admin, the interruptions and distractions organisations may stifle employees' sense of purpose and drive.
Managed services can be the key to freeing up your organisation's resources and people to focus on the priority objectives of your business. Those priorities may be the main day to day business operation. Alternatively, they may be key projects that will deliver important business benefits once completed. This is more vital than ever, considering that business landscapes are quickly changing, and business growth and adaptability are a priority for many organisations. 
According to 20% of employees, IT departments are so inundated with work, they cannot usually help with ad-hoc technical issues. This causes them to lose focus and slows down their productivity. They are faced with quickly-evolving technology, a global push to better accommodate employee needs, and an unprecedented rise of cyber threats.  This means organisations must utilise managed services to unlock their full potential and facilitate long-term, sustainable growth. 

Why are managed services the key to business growth?
The IT sector is experiencing strong demand for services. This is particularly prevalent in areas such as automation, cloud computing, and cybersecurity. Businesses need to find ways to economise and maintain the delivery of quality services. 
This will require a bigger shift to automation and a focus on investment in tools and services that facilitate this. Doing so will free up time for their teams to focus on more strategic initiatives.
What can managed services do for your organisation?
Many different aspects of your business can be enhanced with a trusted managed services partner, from your IT infrastructure to cybersecurity, from your meeting room AV to cloud services, but to pick one specific example let's take a look at IT Service Desk.
Enhance end-user experience
Your employee's experience can be dramatically enhanced by an IT Service Desk minimising (or, in many cases, eliminating) both the number of issues that arise and the time and resources it takes to identify and fix them. A fully-accountable, single point of contact for all issues really helps. This can be a welcome change from any current partners you might have that fail to hit contracted Service-Level Agreements (SLAs). 
Boost organisation-wide productivity and motivation 
It can take an IT professional an average of 23 minutes to refocus after an interruption and these interruptions consume a total of nearly 4 hours a day
Reducing the number of issues and escalations your organisation faces on a daily basis can provide a massive overall boost to business-wide productivity and motivation by freeing your staff from 'putting out fires' to focus on core business endeavours.  
Additionally, the right partner would work with you to proactively identify, address and manage the root cause of issues, even before the need for an IT ticket. This  enhances the reputation and reliability of your IT team. It also streamlines the process and avoids interruptions. 
Help IT departments and directors achieve their key objectives
CIOs expect their IT budgets to increase 5.1% on average. This is lower than the forecast 6.5% global inflation rate, according to Gartner's Technology Executive Survey.
With this in mind it's paramount that you have a clear understanding of your business requirements and are able to deliver efficiently against OLAs, XLAs and SLAs (Operating, Experience and Service Level Agreements). 
Further, the right managed services partner can help IT departments and directors achieve their key objectives. One way is by facilitating a High-Level Design Workshop to map commercial needs against IT capability. These workshops clearly outline the processes, technology and wider resources needed to deliver key objectives and best practice such as:
A Single Point of Contact (SPOC) for

IT issues, service requests, problems & incidents

Reducing ticket volumes and improving ticket resolution times

Identifying root cause of issues and implementing solutions to reduce ticket volumes

Enhancing efficiency through continual investment and evolution of services
Benefit from the expertise of a trusted partner to ensure compliance and best-practice
A trusted partner with digital integration expertise can help you implement best practices and high-level design. Choosing the right suppliers and transitioning can, in itself, be challenging. That's why the right partner can assist with a continual review of integrated workplace strategies. We can resolve a lack of availability and services by continually investing. This prevents unexpected costs. 
Like to know more? You can get in touch with our experts here.
Begin by assessing and understanding your digital maturity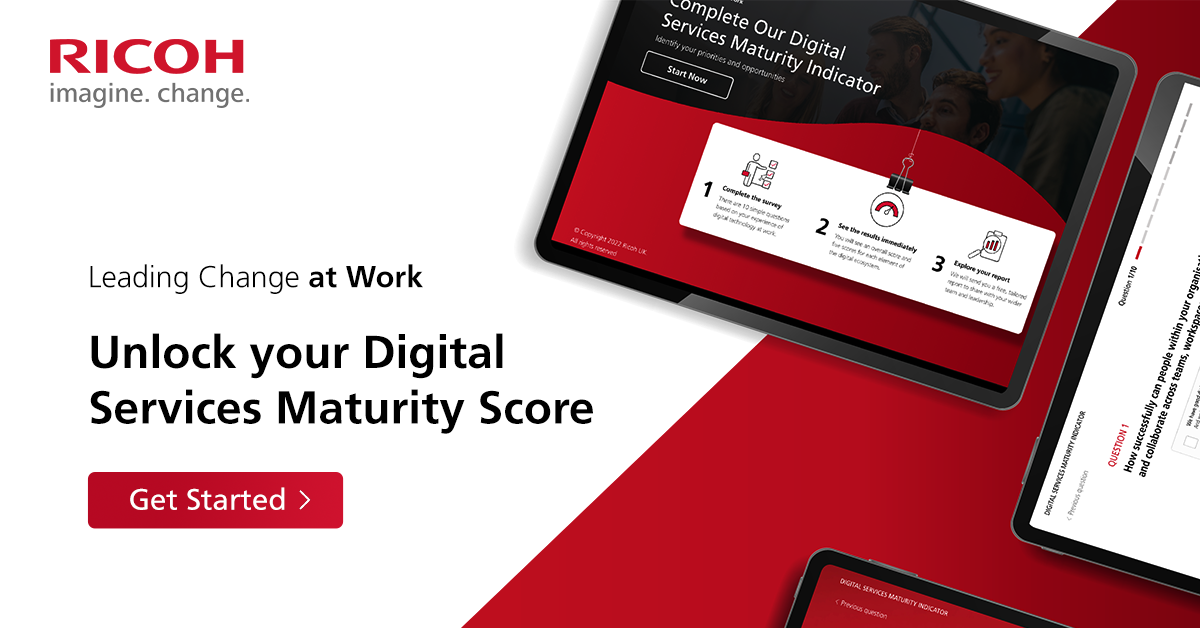 Our Digital Services Maturity Indicator tool can help you assess and understand your digital maturity. We ask that you take just five minutes to answer a short series of questions. In return, you'll immediately receive a tailored report. This report will be full of suggestions, areas for improvement, and actionable solutions you can begin to implement in your organisation today. Alternatively, reach out to our specialists to learn more. We're here to help!