31 May

How To Print More Sustainably
At Ricoh, we're proud to have cultivated a legacy that's green to the core, with sustainability as part of our DNA.
Our mission is to help organisations print more sustainably. We understand that sustainable practices and corporate responsibility are not just our ethical and moral imperative. They also make smart business sense. In our current climate, where 80% of greenhouse gas emissions are indirect emissions that occur across a company's value chain, a sustainability strategy can affect operating profits by as much as 60%.
Further, it's important to be aware that global trends are seeing a rise in greenwashing, a phenomenon to which savvy customers, partners, potential employees, and investors are more attuned than ever. This means it's absolutely vital to substantiate your sustainability claims and ESG commitments with tangible, actionable solutions. We can help you avoid environmental, reputational, and financial losses.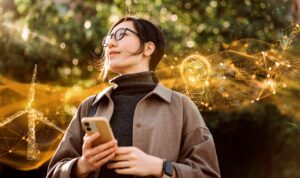 Introducing the IM C Range: our most sustainable multi-functional devices yet
If you want to print more sustainably, but are not sure where to start, consider right-sizing your print fleet with our new IM C range of all-in-one office devices — our most sustainable yet.
The mainframes of our new devices are constructed of 50% post-consumer recycled materials. That's ten times better than the previous model. Coupled with industry-leading TEC values and a 50% reduction in plastic packaging, these credentials will help you reach your ESG goals.
To print more sustainably, consider your carbon footprint across the life cycle of your print infrastructure
Carbon footprint quantifies a product's environmental impact in terms of carbon dioxide emissions. This applies across the product's entire life cycle. It ranges from raw materials, sourcing, and production, through to transportation, usage, maintenance, disposal, and recycling. The IM C line's carbon footprint is 27% lower than that of predecessor models, and has a lower carbon footprint cradle to grave.
When designing your infrastructure to print more sustainably, consider looking into end-of-life-cycle initiatives such as our smart return programme. Ricoh participates in a circular economy. In fact, the reduction of our ecological footprint is such a priority to us that in 1994 we established the Comet Circle, our own circular economy model. The Comet Circle explains our approach to reusing parts and recycling materials within our organisation and across our wider economic activities, supplier network and product life cycles.
Marginal gains for fundamental change
Sustainability is such an all-encompassing and constantly evolving goal. So it can be difficult to immediately visualise the fundamental changes that can be implemented through marginal gains. In other words, why put off until tomorrow what you can put in motion today? Take the first steps and lay a solid foundation to reach your ESG goals with the new IM C range.
For example, our new toner composition fuses at 14 degrees lower than the previous model. This is a big contributor to reduced power consumption. Additionally, with our new higher yield cartridges, you can benefit from fewer shipments and replacements. This enables greater productivity, as toner cartridges will not need to be changed as frequently as before. Furthermore, our new toner lock mechanism does not allow toner cartridges to be removed until a cartridge is empty. This means you get 100% of the usage benefits, with significantly less wastage.
The new IM C range also has a quicker warm up period than previous models, and 50% energy usage reduction while in eco mode (which it enters as a default). This results in lower energy consumption overall.
Make connections with ESG leaders to print more sustainably
A certain way to print more sustainably within your organisation is to partner with a company known for its sustainability credentials, and benefit from their experience and offerings. With the new IM C range, we offer a Carbon Balance Service that can provide you with a CBP certificate for 5 years, boosting your ESG values in the eyes of customers, potential employees, and investors. You'll also enjoy access to a portal with data insight to help you manage your print more sustainably.
Incorporate sustainability into all aspects of your business
By building sustainability into all areas of your business, you can approach your ESG targets holistically and consistently, rather than conceptualising them as their own discrete set of objectives. The new IM C range can help you print more sustainably across the entire lifecycle of your print infrastructure, introducing gains for fundamental change, and empowering you to make connections with sustainability experts.
Learn more or get in touch here