24 Apr

Business process and automation requires perpetual digital transformation – here's why

Technology is evolving at an increasingly rapid pace. So it's essential for organisations to continually evaluate and evolve their digital business processes. Seeking opportunities for digital automation to remain efficient, competitive, and successful.

But new digital innovations and software are arriving daily. So it can be hard to stay abreast of what's available and what's right for your business process and infrastructure. Let's be honest, most of us are focused on running the organisation or simply doing our jobs to find time to assess new technologies. And even if you do, it is still necessary to invest more time to make sure they are right for your business.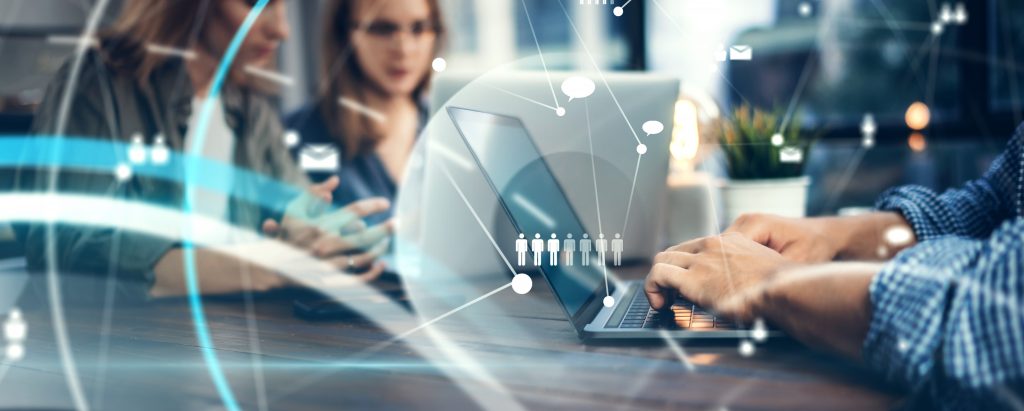 The best way to drive improvements in business processes, automation, and efficiency is by collaborating with an experienced partner. One who understands that digital transformation is not just a one-off project, but a perpetual pursuit of improvement.
Business processes will never stop improving
Today, digital transformation is a concept known across every industry with new ways of working continuing to appear all the time. For instance, innovations are introduced that can impact your business both now and well into the future. But knowing which ones to add to your existing technology stack and which to avoid can be made much easier by collaborating with a knowledgeable partner. 
Therefore, it's important to find a partner who has genuine experience in implementing strategies and technology. One that has credible expertise gained from being at the forefront of digital transformation over the decades. And the foresight to understand how this can benefit business process and automation today.
"Digital transformation is about putting yourself and your customers in a
position to be able to take advantage of new technologies" 
Tina Smith, senior vice-president for Ricoh Europe
A rich history in business process and automation
Some digital transformation partners have been at the forefront of change throughout the history of business innovation – and Ricoh is certainly one of them:
Starting

way back in 1936.

Ricoh has continually revolutionised business and industry. With innovation, advanced products, and a people-first approach to technology

In 1955, the first Ricoh photocopier – the Ricoh 101 – was introduced. This immediately began the transformation of key office functions and became the precursor for later advancements in many areas of business process.

As far back as 1977, Ricoh originated the phrase 'Office Automation' as it began to broaden its product and services portfolio. To support a more productive digital workplace
As a leading digital services company, Ricoh has continued to develop and integrate solutions for its customers and partners for 85 years, supporting perpetual transformation for business processes and automation.
Ricoh today
Ricoh recently announced one of the biggest moments of transition in that rich history. Once again taking the right steps to retain their position at the forefront of business process change as a digital services company.
By driving innovation across its organisation, Ricoh helps customers all over the world, both large and small, empower their business process and automation ambition. Encapsulating the latest cloud technologies, software, AI, applications, and managed services, Ricoh is so much more than a technology manufacturer. Furthermore, with strategic partnerships with the worlds' largest and best-known IT vendors, Ricoh is continuing to broaden its ability to give the best consulting advice and support to its customers.
Your digital services partner for business process & automation
Through ongoing innovation, we continue to create technologies and products that help solve business challenges, improve security and support future growth.
Our 'Work Together, Anywhere' philosophy brings together a specialised suite of products and services to help your people achieve their best work and maintain productivity in an uncertain world.
Here are just a few ways we can help your organisation with business process and automation:
By optimising business operations
Ricoh supports you with business processes and automation to improve efficiency. By removing repetitive tasks we enable your people to focus on high-value activities. In addition, process automation helps you make processes faster and more accurate, providing a better employee and customer experience.
By enabling a distributed workforce
We help reshape your offices from a place to do 9-5 desk work, to a vibrant environment in which to collaborate, create, and connect. We achieve this through the introduction and integration of new technology and tools. Therefore offering your employees the choice of where to work, whether that's in the office, co-working space, home, or on the move. All while being connected to key services and office-based technology.
By accelerating and securing digital transformation
Ricoh supports your business by helping to speed up business processes and automation. In addition, they then secure it too. It's vital that cybersecurity is integrated across your entire workplace and devices. Therefore, your people can achieve their best work while keeping your data safe.
Read Our Coventry City Council Case study
Get in touch today
Business processes and automation are in a state of perpetual change. That's why you need to select a collaborative digital services partner. One that can help you make the most of today and grow for a brighter, more secure tomorrow.
Ricoh is ready.