08 May

How to support mental health and wellbeing in the hybrid workplace
A 2021 survey

of 100 UK hybrid workers revealed that 72% were experiencing exhaustion from hybrid working. You might view hybrid working as the future of your organisation, but in the rush to adopt new and innovative working practices, don't forget to consider how it might affect the wellbeing of your people.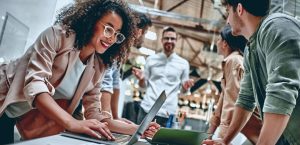 During periods of forced homeworking, the business world learned some incredibly valuable lessons at an incredibly fast rate. The importance of business resilience became clearer than ever before, and we saw the true potential of flexibility for enhanced productivity and efficiency. 
But most of all, we fortified our understanding that the most important asset in any business is its people. As your organisation takes stock of these learnings and transitions to a hybrid working model, mental health and wellbeing need to be at the forefront of plans and policymaking. 
So, let's take a look at some of the things you should be considering. 
Define the tools and technology your people need
A recent study by Ricoh Europe, surveying 500 UK office workers, revealed that people felt inadequate technology and a lack of collaborative working environments were holding back the realisation of more accommodating and agile ways of working inside their organisations.
Technology is an important element of making hybrid working possible and the key to giving employees the best digital experience to support their wellbeing and development. Without investing in technology to aid communication and collaboration, your people cannot truly excel in a hybrid working environment and achieve fulfilment through work.
Communicate regularly and openly
Nobody likes to be left in the dark, especially if they're feeling anxious or uncertain. By being transparent and honest with the direction of your hybrid working plans – you will maintain a sense of togetherness, making sure your people feel part of the big picture. Your people should be part of the decision making process when it comes to creating a hybrid working policy. 
It's also the role of managers to have regular one-to-one conversations with their teams when hybrid working is in place to avoid isolation and loneliness. And not only to talk about work but also to enjoy each other's company as if they were hanging out at the office coffee machine. 
When teams are distributed across the office and remote locations, reach out to your colleagues before the emotional fatigue of remote working sets in. Put the right support in place before anyone even needs it. 
Signpost mental health and wellbeing platforms

 
Recent statistics from Gartner's global 2021 EVP Benchmarking Survey highlight that although 87% of employees have access to mental and emotional wellbeing platforms, only 23% of employees use them. When you have distributed teams working under a hybrid model, it is the responsibility of management to ensure your people know they have platforms and tools that can help them prioritise how they're feeling and the challenges they're facing.
You also need to provide opportunities for your people to reach out to others in the business that may be able to help them maintain their wellbeing or manage mental health concerns. At Ricoh, we have Wellbeing Champions who help everyone across the business thrive physically, mentally, financially and socially. Making sure communication lines are open and accessible is important. 
Finding the right balance
One of the biggest challenges for hybrid workers is finding the right work-life balance. A recent study by Gartner found that employees in the hybrid world are 1.27 times more likely to struggle to disconnect from work than employees in the on-site world. 
If you have decided to adopt a policy of radical flexibility and hybrid working, you need to reassure your people that managing your own time is ok. In fact, you should positively encourage them to disengage from their home desk every once in a while and get active. 
Set objectives to work towards
Targets and objectives play a major role in motivation. In the hybrid world, it's important that these are clear and visible to all, regardless of where employees are working that day. It's all about giving your employees focus and a sense of control even when their manager might not be there to provide guidance. 
Learn from the experts 
When it comes to mental health and wellbeing, it is important to lean on advice and guidance from the experts. Ricoh has signed the Mental Health at Work Commitment which helps us to ensure we are carrying out all the necessary actions to drive an open culture around mental health and wellbeing. 
Part of our commitment is giving our leaders the training to have open, empathetic and knowledgeable conversations about mental health. The other side of it is giving our people the tools to take control of their wellbeing, like our MyEva platform that enables employees to take control of their finances and pensions. We also have an Employee Assistance Programme, where employees can bring problems, big or small and work through them with an external sounding board and adviser. 
How can you devise a hybrid working strategy that empowers people? 
Any hybrid working approach should constantly monitor and support your people. It's about being aware of mental health and wellbeing at work through open communication and being proactive when you identify problems and solutions.
You can discover how other organisations have approached these challenges by reading our Leading Change at Work report, researched and written in partnership with UK business leaders.  You can also read more about the benefits of hybrid working from our Head of IT and Communications Services here.