29 Jul

This is what print buyers really want to see and hear during pitches

I've recently hosted a great webinar for print service providers called, 'How to build a successful strategy to get your foot in the door, inspire and win work'. You can watch the on-demand recording here.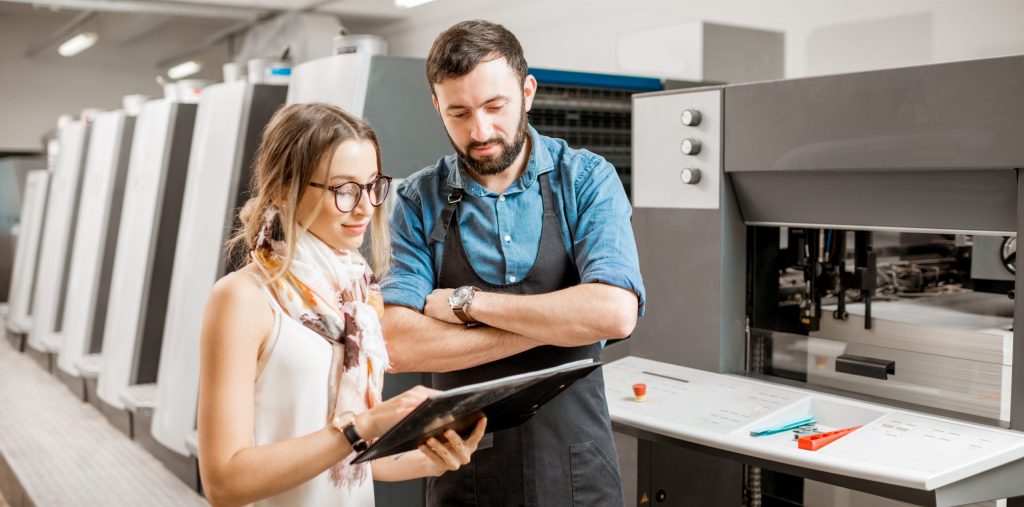 One of our speakers was Dani Crebbin, a Senior Creative at Paperhat Digital, a creative agency with offices in London and Vienna. She talked about her experiences of working with printers and what she looks for in a print partner, especially during the pitch.
There was loads of priceless first-hand insights in Dani's part of the webinar, so we thought we'd share a few of the highlights. 
Be a good listener
Everyone loves a good listener. So start off by trying to learn more about your audience. You can do this in the room, but also in advance. In fact, researching the agency beforehand is a must, as it will give you much more to talk about.
Try to understand what they're struggling with, what they're worrying about and what they need right now. Maybe it's print speed. Maybe it's print costs. The best way to find out is to research beforehand and then ask in-person.
Try to showcase work that's as relevant to them as possible. If a lot of their work is oversized retail, show them your successes in that area. If they do a lot of packaging, show them some unique packaging finishes.
The more relevant you can make your pitch to their work, their challenges and the goals, the more likely they are to listen.
Fire up their creativity
Creatives are always excited about new ways of doing things, but they might not know all of the options available. It's your job to steer them towards the best solution but also to fire up their imagination.
One of the best ways to connect with agencies is to tap into their creativity and sense of possibility. Turn up with exciting samples, tell them about new print techniques, finishes or papers that you can help them explore. 
If you turn up with samples or ideas that they've probably heard about or seen something like before, you're unlikely to get them excited about the possibilities of working together.
Be a trusted partner, not a supplier
Agencies and marketers want print partners, not commodity suppliers. So you need to show that you can add value, solve problems and won't let them down when they need you most.
Find ways to show and prove that you are able to go the extra mile and collaborate with the creative team to find the best solution. As Dani puts it: "Be the consultant!"
Communication is critically important. You need to be able to show that you have processes in place to manage the relationship and make things as stress-free as you can. Marketers will return time and time again to trusted partners they know they can rely on.
You should also try to show that you appreciate the pressure that agencies and marketers can find themselves under. Last-minute deadlines that come out of nowhere are an occasional fact of life. If you can show that you're able to help them when they're in a tight spot, that will go a long way.
A good way to demonstrate this is to show testimonials from existing customers talking about the quality of the relationship and the service.
Back up your case with data
Marketers want to see great creativity but they also need data to know that they're making the right decision. Their clients will expect them to deliver quantifiable value and back up their decisions with facts and figures, so you need to show that you think this way.
For instance, find statistics that show their target market respond well to direct mail. Or that physical marketing commands more attention than digital marketing. 
Or you can show how you used data in the past to target content for specific audiences. Data can unlock unique insights that give you a 'way in' for hard-to-reach audiences.
Another good way to use data is to test multiple approaches and see which does best. If you can show creatives that they can road-test multiple approaches before committing, it will show that you're committed to helping them find the best solution and that you think in a modern, data-led way. 
Bring amazing samples
A picture is worth a thousand words. But nothing comes close to a physical product. 
Creatives love creating things and checking out great work. They find it inspiring and energising. They love holding, feeling and finding out how things were made. That's why most of them keep print samples on their desk as inspiration.
Also, creatives can use your samples to sell in work to their clients. And if they do this, they're probably going to award you the work because they know you can do it well.
When supplying samples, show that you can produce great quality print, but also show that you can think outside of the box. Creatives and marketers see a lot of samples, so make sure you show them something original. You may even want to produce some spec work of your own to showcase just how far you can push it.
A few specific things Dani likes to hear
Dani hit upon a few small things that always pique her interest during a pitch. 
Here's a quick rundown so that you can factor them into your next presentation:
That you can do personalisation and versioning

That you have digital colour matching

That you don't have a minimum order so they can test before committing to a full run

That you'll get it right first time so there won't be any do-overs

That you're happy to help with the artworking to get it right if necessary
In some ways, the things that make a print pitch great are the same things that make any pitch great. Understand your audience, focus on the partner and use data to make your case.
But print providers who really want to cut through should also tap into the creativity of their audience. Creatives and marketers are naturally excited about new things and want a partner that can help them push the envelope.
Thanks to Dani for joining our webinar. As we said at the start, if you missed the original session you can check out the on demand version.