06 Jul

Solvent, UV or latex printing – which will be the most popular in 5 years?

Solvent, UV or latex inks offer a range of different benefits for commercial printers. In this post, we'll talk you through your options and look at which will be the most future-proof.

As with many sectors, technology is driving significant changes in wide-format printing. But will UV and latex overtake solvent as the ink of choice?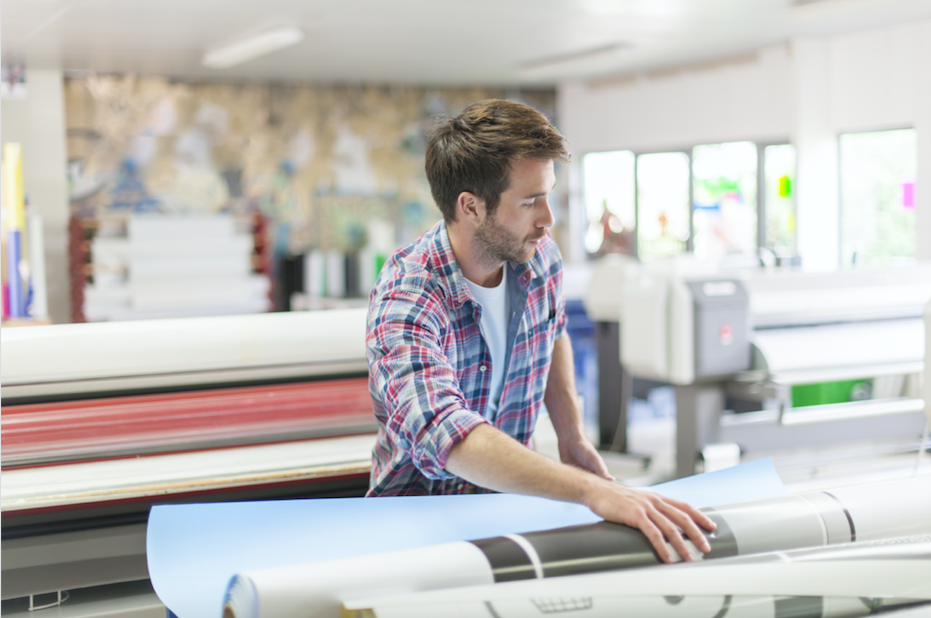 Over the last decade, we've seen the rise of digital inkjet printers. More and more print service providers (PSPs) are migrating from analogue to digital. This has naturally led to advancements in ink technology – latex being one of these as well as UV printing. There is also a movement away from traditional full solvent printing to eco-solvent printing. But eco-solvent, nonetheless, still uses a solvent in its ink formulation.
In the latest Widthwise report, Richard Stuart-Turner states that "the continued take-up in alternative technologies to solvent-based has been another key trend". With further developments in UV inks to cope with flexible media and LED curing to offer a low-energy alternative, has solvent printing evolved enough to keep up with demand?
How is the market changing for solvent, UV and latex inks?
Wide-format printing is a growing sector in the print industry. Figures released in the Widthwise report suggest that over half of those surveyed (62%) expect large format to account for a higher proportion of their turnover in the next two years.
What's driving this growth?
The textile, advertising and packaging industries are behind this surge, according to Report Buyer, as well as the rising adoption of UV curable inks in outdoor advertising, CAD and technical printing applications.
Also, customers are more demanding in terms of turnaround time and their desire to personalise products. As companies/brands compete to grab people's attention, they are looking for innovative, personalised solutions.
Sustainability, productivity and versatility
Very often, customers need printing done quickly and traditional print techniques struggle to provide this, which is one of the reasons why latex and UV printing has captured some of this market. There is no lengthy curing or gassing off period and the ink is dry as it comes off the printer, meaning the output can be rolled, cut or used immediately. However, due to solvent having excellent adhesion properties it is still a dominant force for doing outdoor work such as vehicle wraps and general signage.
In addition to these market trends, another important factor to consider is the environment. As more companies look to improve the impact their business has on the environment – not just in terms of printing but also disposal or incineration of used prints – this certainly accounts for why large-format print companies are moving away from solvent to more eco-friendly practices.
The top four reasons why large format is moving away from solvent printing include:
Environmental implications on disposal
More versatile and flexible to meet demands
More productive end-to-end process
Ability to personalise for indoor and outdoor
Despite these benefits, there is a trade-off in terms of cost, quality and output, which is why it is important to weigh up the pros and cons before making a decision to buy either a latex, UV or solvent printer.
"24% of print companies want to increase capacity and 15% want to move into new markets"
For many printing companies, the choice between solvent, latex or UV printing is determined by the current equipment and processes. However, for those who are evaluating their processes and looking to expand into new market segments, there are some important factors to consider when choosing wide-format printers.
For many printing companies, the choice between solvent, latex or UV printing is determined by the current equipment and processes. However, for those who are evaluating their processes and looking to expand into new market segments, there are some important factors to consider when choosing wide-format printers.
What kind of work do you do?
This question applies to both now and where you see your business in the future. Success in digital printing starts with choosing the right ink type for the job, so if you're looking to expand you need to plan ahead. Signage and outdoor work requires different considerations for fine art or photography, for example.
Will the printed media be used indoors or outdoors?
These are major factors that need to be taken into account. If you expect to be creating large indoor displays, solvent inks may not be the best choice due to the printing process having a perceived odour after printing, whereas latex and UV are odourless and have a degree of scratch resistance.
Do you need to mount prints directly onto rigid substrates?
This is where UV printing comes into its own. It prints onto virtually any flat surface including wood, concrete, plastics, metals, glass, etc. The printing is usually only limited by the height restriction of the printer and the print width. Printing directly to substrate eliminates the need to mount prints onto boards, saving time, material and costly re-works.
Do you need to produce printing at high speeds?
If the answer is yes then latex and some UV systems will generally print at higher speeds as the prints are dry as they come off the printer. Both latex and solvent printers need heat to dry the print but unlike solvent printing latex does not have the additional gassing off process, which increases productivity.
What print quality is required?
On certain materials, solvent ink can generally give higher definition prints than either latex or UV. The best print quality is achieved by using dye/pigment-based inks, but these are less durable outdoors and susceptible to scratching.
Which is most popular in 2018, solvent, UV or latex printing?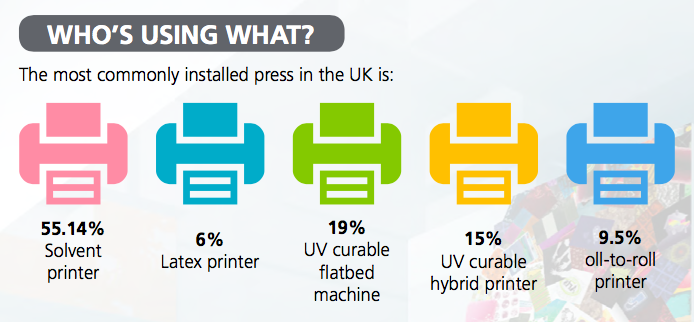 The most commonly installed press in the UK is the solvent printer (55%). That's not entirely surprising given the long history solvent printing has over some of the newer technologies. They're already installed, people know how to use them and it is a tried and tested way to produce high-quality prints.
Will this change significantly over the next five years? That's tough to answer because technology is advancing all the time, but if some of the facts coming out of the Widthwise Report are to be believed, then solvent printing may be here to stay for a little while longer.
When asked about the type of wide-format printing they are involved in, respondents said:
General banners / flags / signage – 79%
Exhibition and graphic displays – 58%
Transport graphics – 36%
Other popular markets included posters (67%), window graphics (44%) and retail (39.5%), which could be served equally well by latex or UV printers. However, given that the previous list all require durability for outdoor use, it's perhaps a key factor in a PSP's decision to stick with the equipment they already have. At least, until the newer technologies develop and can guarantee the same durability.
Early adopters and startups may be more likely to invest in the latest technology. But traditional print companies that have used solvent printing for many years and trust they may find it harder or be less likely to switch given current demands.
Looking for more information on solvent, UV and latex inks?
If you're a printer looking to tap into new markets or expand to win more large-format print jobs, it's vital to evaluate what is best for your business and the type of work you do or want to do in the future.
Experts are there to help if you're struggling to make a decision or need more advice. Get in touch with me on LinkedIn or download the Buyer's Guide to use as a step-by-step evaluation tool. You can download your copy by filling out the form to the right, or below if you're on mobile.