19 Oct

In-house Print Rooms are faced with a fantastic opportunity – here's why

What once seemed to be dark days for in-house Print Rooms has quickly turned to a new dawn. The 'new normal' demands innovation to meet client expectation.

At first, it seemed like mass remote working might spell doom for in-house Print Rooms, as organisations looked to cut operational costs.

Instead, many in-house Print Rooms have adapted to provide critical services to their business. At a time when many external resources are not currently available.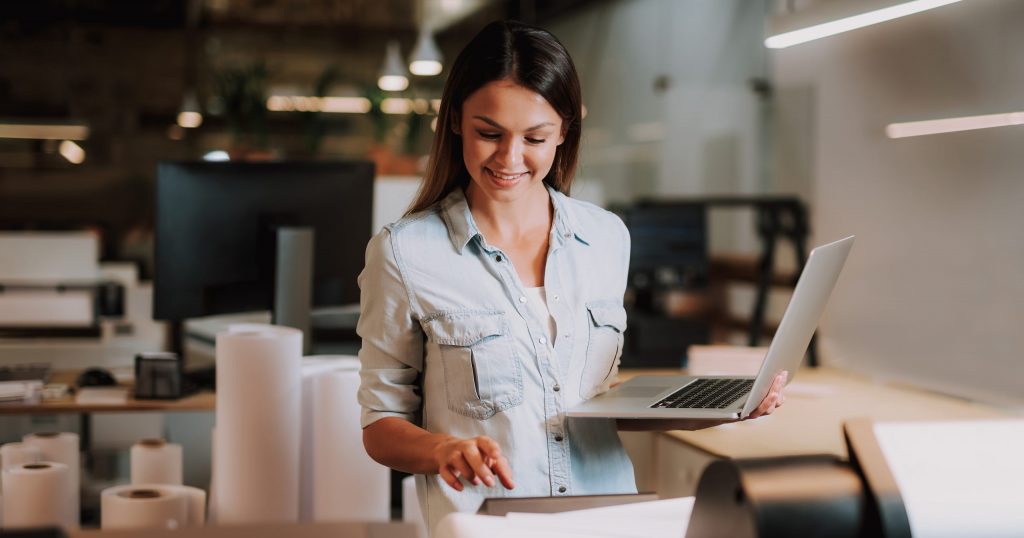 In this article, we'll take a look at how Print Rooms have evolved.  What opportunities lie ahead, and three key tips to help you adapt or supply your people's in-house print requirements.
How have in-house Print Rooms adapted?
There are some fantastic examples from across Europe. In-house Print Rooms have evolved to meet the changing needs of both their people and the wider organisation.
In Germany, a large international bank implemented its hybrid mail solution. Maintaining critical client communications. It enabled their people to create correspondence and manage printing directly through a centralised Print Room.
In UK Retail, the huge requirement for signage and posters to support social distancing guidelines has provided a large source of revenue. 
While in education, much more material is now being printed centrally by schools. Allowing their students to continue their studies from home.
What opportunities lie ahead for in-house Print Rooms?
These examples aren't just opportunistic fulfilment of a short-term need.
As we move forward into the 'new normal', reliability and flexibility of print services will be key to support critical ongoing business processes.
It's vital that customer communications continue to happen regularly.  In-house Print Rooms can drive your strategy in new ways to build both your business and develop customer loyalty.
And remote working – at least partially – isn't going anywhere. You must provide your people with the ability to both economically and securely access Print Room services. Therefore, overall print spend is managed centrally.
Click here to watch why In-house Print Rooms are faced with a fantastic opportunity
Three tips for supplying or adapting your own in-house Print Room
If you're thinking about how to evolve or create your own centralised in-house Print Room. These three keys bit of advice will help:
Learn from your people
One of the very first things you need to do, is investigate. Have your people been impacted by not having access to printers in the office? You may find the easiest solution is to provide a centralised Print Room service
Review mailing or customer communication workflows
Marketing, finance and customer service teams are likely to be among the most affected by the lack of print options. Therefore, see if they've been unable to communicate effectively and find out which supplier services have been impacted.
Implement new tools to support your workers
Adding digital tools that allow your people to submit print jobs remotely to your in-house Print Room. Preventing uncontrolled external print buying, reducing overall print costs for your organisation.
What in-house Print Room tools should you use?
The best place to start is by auditing your current Print Room capabilities . Capturing both quantitative and qualitative data from your business and your people.
Organisations could already have existing workflow tools  –  Digital StoreFront or Planet Press – that can be used to help centralised print ordering.
Ricoh's new TotalFlow Job Ticket can be quickly added to your print workflow solutions. Allowing users to submit print requests from home.
Contact your Ricoh representative to learn more
Ricoh is a people-first provider of in-house Print Room solutions.
Get in touch and we will work alongside you. Identifying and implementing everything your organisation needs to capitalise on the opportunities that lie ahead.
To find out more about how what print solution is right for your organisation, click here