05 Jun

How to build a better workplace for your people – with insights from IWFM
Right now, organisations have an unrivalled opportunity to build a better workplace driven by hybrid working. A workplace that focuses on people. Your facilities manager needs to consider several perspectives to make this a reality.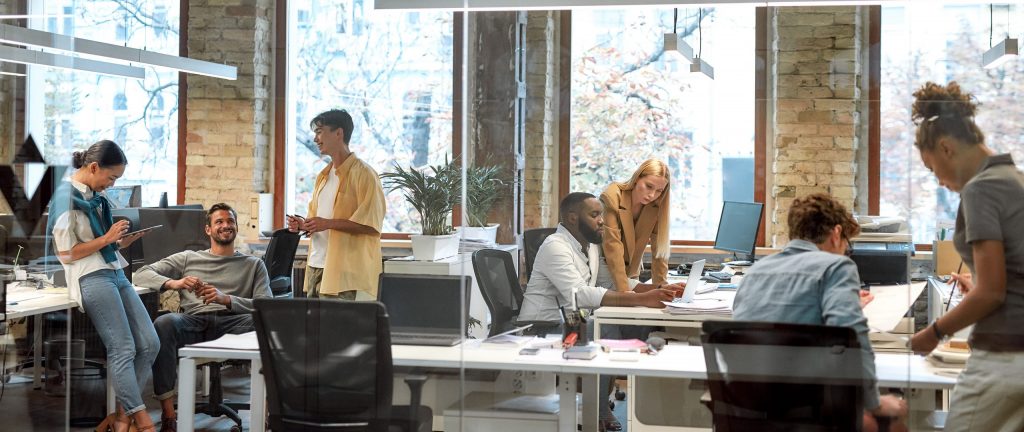 In this article, I'll share my insights – supported by excellent research from the Institute of Workplace and Facilities Management (IWFM) – to look at how vital facilities decisions will set your organisation up for the years to come.
How do people feel about remote working?
Remote working opened your employee's eyes to new ways of working. By working at home, they have benefitted in a number of ways like more significant financial savings. Your people want to keep these gains. In fact: 
43% enjoy not having to pay to commute to work

42% value the increased time they get to spend on personal activities

61% feel that their experience of remote working has made them want to continue working from home in the future
But for those that do want to return and adopt a more hybrid working approach, there are a few things you can plan to make sure your organisation provides the right environment.
What do your people want from a hybrid office?
Some of the most valuable insights gained by the IWFM are key statistics about what workers expect as the business world transitions to hybrid working. Here's what they found out:
73% expect flexible working options

55% hope for increased cleaning provisions

49% would appreciate open and regular communications on hybrid working plans

39% envisage adjusted desk organisation to maintain social distancing
Take these insights and make them part of your better workspace and hybrid working strategy.
A professional's view
"Creating a workplace that feels safe and productive is vital to our success. Listening to our people's concerns and needs was essential. We have implemented a considered approach based on insight and understanding by gathering qualitative and quantitative insights through employee surveys and feedback. Our people are our most valuable assets."
Dale Woodcock, Executive Director – EMEA at Woodalls Design
How can your Facilities Manager prepare your office for a hybrid model??
No matter your strategy, your Facilities Manager will play a key role in ensuring your office workspace isn't just suitable but also empowering for your people. Here are three fundamental principles they should follow to ensure your teams remain happy, protected and productive during hybrid working:
Develop a flexible strategy that makes sense for your staff, visitors and customers
You also need to provide support for those who work at home. Make sure they have the right equipment, like chairs and software devices. So, your solution has to be flexible.
The best decisions can only be made through insight gained directly from your people. You must understand the concerns of individuals who work with you to provide solutions that work for them. Facilities Managers should collaborate with HR colleagues to create surveys, harvest data, and enable action. Ricoh, we call this process "The Voice of the People"
Lead the charge into the 'new normal'
Understand that this is just the beginning. Facilities Managers have an opportunity to demonstrate authentic leadership and show the value of their role by providing and integrating solutions that their workplace needs. Think both short- and long-term to stay at the forefront of the 'new normal', and remember we're moving forwards, not going back.
How Ricoh can help you reimagine a better workplace
One of the best ways to ensure your organisation creates a better workspace is by working with a collaborative partner whose experts understand the challenges and opportunities.
Take a look at our guide, 'Reimagining your workplace' and learn why we here at Ricoh think now is the perfect time to build for a better business future.
Reimagining your workplace
We're entering an exciting time for business, one with excellent opportunities to evolve how we work for greater commercial success – but there will also be new challenges.
Click to read a quick guide to reimagining your capture
If you would like more advice on reimagining your workplace or help with an existing project, please get in touch.