02 Sep

How to build a better workplace for your people – with insights from IWFM

As the full identity of the 'new normal' slowly becomes more established, it's increasingly important to ensure your business has the right foundations in place to build a better workplace for the future.

I'm Simone Fenton-Jarvis, Workplace Consultancy Director at Ricoh. I have many years' experience as a Workplace SME, working with businesses of all sizes to co-create people-centric workplaces which enable businesses to thrive in the evolving world.

And this service has never felt more important to me than it does right now. Indeed, it feels like there is an unrivalled opportunity to build a better workplace. A workplace that focuses on your people and capitalises on this new agile and flexible working environment.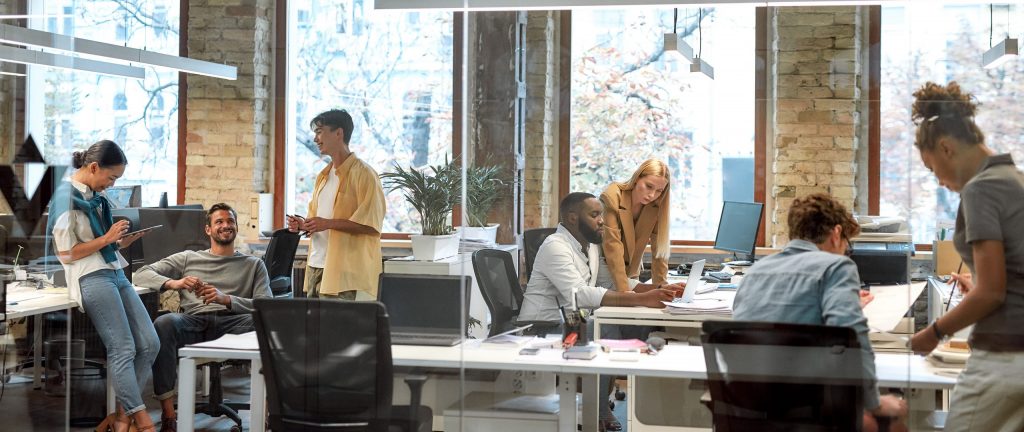 In this article, I'll share my insights – supported by excellent research from the Institute of Workplace and Facilities Management (IWFM) – to look at how vital decisions now will set you up for the years to come.
What are the challenges facing your people?
To understand the benefits of building a better workplace, you must first understand the challenges we need to address.
Despite the easing of restrictions across the UK, most organisations do not expect significant numbers of their employees to return to the office – and they are right. Your people have many concerns about the idea, such as:
49% feel social distancing and hygiene standards won't be good enough

30% feel their organisation are not prepared for a safe return

34% are not looking forward to going back at all – a figure that is rising over time
But it isn't just concern about returning to the office. It's also what they'll miss about working at home.
What benefits are your people currently enjoying?
For many, remote working has been a bit of a blessing. It's opened their eyes to new ways of working which have led to more free time and greater financial savings. Your people want to keep these gains. In fact: 
43% enjoy not having to pay to commute to work

42% value the increased time they get to spend on personal activities

61% feel that their experience of remote working has made them want to continue working from home in the future
But for those that do want to return, there are a few things you can plan to make sure your organisation provides the right environment.
What do your people want before they return to the office?
Some of the most valuable insights gained by the IWFM are key statistics about what workers are expecting as we transition into the next phase of the 'new normal'. Here's what they found out:
73% expect flexible working options

55% hope for increased cleaning provisions

49% would appreciate open and regular communications on return plans

39% envisage adjusted desk organisation to maintain social distancing
Take these insights and make them part of your better workspace strategy before your people make their return.
A professional's view
"Addressing the needs of our people and creating a workplace in which they feel safe and productive is vital to the future success of our business. So listening to our people's concerns and needs was essential. By gathering both qualitative and quantitative insights through employee surveys and feedback we have been able to implement a considered approach based on insight and understanding. Our people are our most valuable asset – so putting their needs first is paramount."
Dale Woodcock, Executive Director – EMEA at Woodalls Design
How can your Facilities Manager prepare your office for a return to work?
No matter what your strategy, your Facilities Manager will play a key role in ensuring your office workspace isn't just suitable, but also empowering for your people. Here are five key principles they should follow to ensure your teams remain happy, protected and productive: 
Carry out a risk assessment
Following government guidance, carry out a risk assessment to determine how many people can safely work in your office. Involve your people throughout the process to both reassure them and provide exactly what they need.
Build a workspace that's safe for those who return to work
Start by determining who needs to work in the office and who doesn't. Then determine whether to compartmentalise areas by certain teams or provide flexible hot-desking that you keep sanitised – both have different benefits to your people.
Develop a flexible workspace strategy that works for your staff, visitors and customers
You also need to provide support for those who work at home. Make sure they have the right equipment, from comfortable chairs to software and devices. And it's like that many people will work both remotely and in the office. So, your solution also has to be flexible.
The best decisions can only be made using insight gained directly from your people. You must understand the particular concerns of the individuals who work with you to provide a solution that works for them. Facilities Managers should collaborate with HR colleagues to create surveys, harvest data and enable action. At Ricoh, we call this process "The Voice of the People".
Lead the charge into the 'new normal'
Understand that this is just the beginning. Facilities Managers have an opportunity to demonstrate real leadership and show the value of their role by providing and integrating solutions that their workplace needs. Think both short- and long-term to stay at the forefront of the 'new normal', and remember we're moving forwards not going back.
How Ricoh can help you reimagine a better workplace.
One of the best ways to ensure your organisation creates a better workspace is to work with a collaborative partner whose experts understand the challenges and opportunities at hand.
Take a look at our guide 'Reimagining your workplace' and learn why we here at Ricoh think now is the perfect time to build for a better business future.
Reimagining your workplace
We're entering an exciting time for business, one with excellent opportunities to evolve how we work for greater commercial success – but there will also be new challenges.
Click to read a quick guide to reimagining your capture
If you would like more advice on reimagining your workplace or help with an existing project, please get in touch.