16 Sep

Supporting youth employability with The Prince's Trust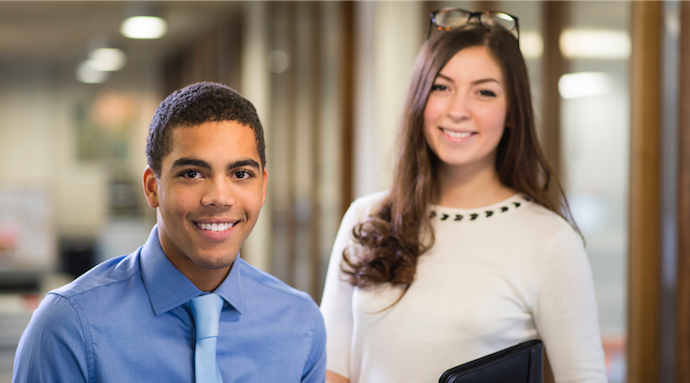 There are things businesses can do to support the employability of young adults. We've chosen to focus on youth employability in partnership with The Prince's Trust. 
The Prince's Trust helps 11-to-30-year-olds who are unemployed or struggling at school to transform their lives. They believe that every young person should have the chance to embrace exciting opportunities, and we couldn't agree more.
How does the partnership work?
We've been supporting The Prince's Trust programmes through youth employability work placements and workshops for around five years now. The placements and workshops are included within a 12-week training programme which runs 3-times a year. The charity covers topics such as life skills and employability. The objective is to get the participants back into employment or further training.
Topics covered include:
Mentoring:

A Ricoh mentor shares their knowledge, skills and experience on an ongoing basis with a young person to allow them to develop and progress in their career.

Interview practice & skills:

Workshops are carried out where interview skills are learned and then practised in a typical interview environment. Common questions and practical answers are also discussed and understood.

CV writing:

Workshops focus on what a professional CV should look like, and guidance is given to the participants to help them create their CV.
The programmes are aimed at those who fall under the government's NEET (Not in Education Employment or Training) group, and workshops are hosted by Ricoh employees. It's been a fantastic opportunity for our staff to give back and utilise their skills and knowledge. This also gives young people access to our workplace and new opportunities. It gives those participating in the workshop a glimpse into the corporate world. And also the chance to learn and practice some key skills they will need when pursuing further education, employment or training opportunities.
Participants who receive training stand to gain more than just new skills. Ricoh currently employs eight staff members who previously participated in the youth employability scheme. Beyond Ricoh, more than 50% of participants have gone on to find full-time employment. And 35% are engaged in higher education, meaning 85% of those taking part have progressed successfully.
How does supporting youth employability help?
Thomas Rowen, a Ricoh Customer Services Administrator, was one of the Prince's Trust participants involved. He shares his thoughts on the programme:
"I became involved with the Prince's Trust when recommended by the job centre to attend a course run by Paul Hamblin. During my time at the Prince's Trust, I participated in many activities. From simple team exercises, building a makeshift wooden structure and volunteering at a holiday resort for disabled people. Even abseiling off a 100ft Bridge.
Many of these activities were designed to throw me out of my comfort zone and also get new experiences in working environments. My first contact with Ricoh was through a CV workshop during week 3 of the prince's trust. After that, I came back many other times for help with interviews. I then did my 2-week work placement and have since stayed on as a Customer Scheduling advisor for Ricoh.
I am enjoying my time here. My colleagues are all really helpful and easy to talk to about anything. My managers have also been very understanding during some complex personal issues and are always helping me try to improve myself. I occasionally speak to Paul from the Prince's Trust and have helped them out a few times during my early time here.
I would definitely recommend the Prince's Trust; it will give you so many opportunities and experiences."
How can better youth employability benefit my organisation and people?
I may have been missed through traditional recruitment methods.

Enhances and empowers your people, allowing the organisation to embrace diversity and inclusion further.t brings a fresh perspective and a different way of thinking to your business.

Given the right opportunity and skills, young workers are mostly eager to learn and bring enthusiasm to the workplace.

It allows your employees to give back to the community, improving their sense of well-being and advocacy for your organisation.

Allows your organisation to access employees with valuable skills that bring new and diverse value to your workforce.
This is an excellent opportunity to reach untapped potential in the youth community. Bringing rich talent into your organisation and the chance to work in partnership with a fantastic charity.
The Prince's Trust has been an invaluable part of our CSR & People strategy and is absolutely where you should begin when looking at supporting youth employment.
How can I get involved?
You can read more about our work with The Prince's Trust. And if you want to support the Prince's Trust, you can find more information on how to do so on their website.
If you would like to learn more about what it's like to work at Ricoh or our youth employability programme, please feel free to contact me via LinkedIn.