25 Sep

Why it is time to future-proof print with Artificial Intelligence
Artificial Intelligence (AI) is enabling Print Service Providers (PSPs) to make some exciting changes to their production processes. It is helping them assess their operation and introduce performance benefits that future-proof their business.
The impact AI can have was recently discussed by my colleague Clive Stringer in this blog. He highlighted how an AI solution can drive continual improvement through a core set of capabilities that grow as it learns the types of print jobs being run. Traditional software by contrast can complete only what it is programmed to perform.
Clive explored how artificial intelligence powers growth in print processes through pattern recognition and learning by correction. It can handle much broader capabilities than traditional or rules-based programmes and is able to learn from mistakes. He also considered how AI responds to new, unexpected situations, making it ideal for real-world applications where anything can happen.
Ricoh Pro Scanner and RICOH Supervisor™ – high speed with artificial intelligence
The operation-wide ability to learn and revise processes is a core benefit of Ricoh's brand new Pro™ VC70000e. The high-speed inkjet press produces exceptional quality, image-driven, customised marketing, direct mail, and publishing applications.
The Ricoh Pro Scanner and RICOH Supervisor™ in Ricoh's Automation Suite simplify operation and give greater feedback to help shape key business decisions.
The Ricoh Pro Scanner, also available for the Ricoh Pro™ VC70000 and Ricoh Pro™ VC60000 high-speed inkjet presses, identifies details that improve performance and consistency. Firstly it decreases manual touchpoints and increases overall efficiency through predictive analytics. Secondly, it monitors production to check on the machine's condition and the quality and accuracy of the printed content. And thirdly, it identifies ways to improve future production, including monitoring for scheduled preventative maintenance. It also helps to automate a variety of labour-intensive and time-consuming tasks, such as printhead cleaning, paper profiling and even daily startup routines.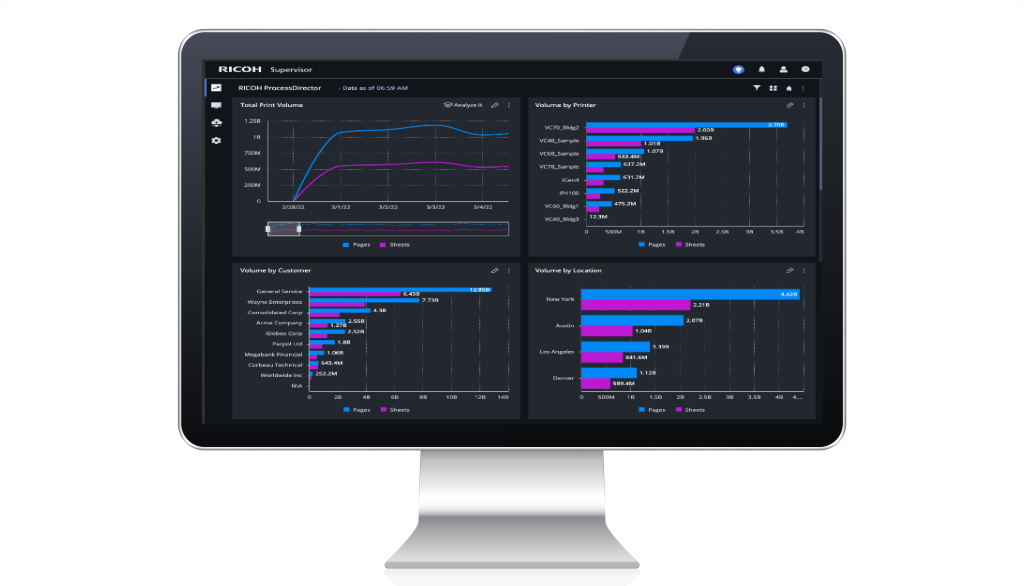 How artificial intelligence in print improves business performance
Consistency of machine-generated profiles ensures there are no variations between the approach of one operator compared to the next. Over time it carefully measures the results of each task, noting differences in results and methods and gradually, intelligently and automatically improving the machine's overall performance.
German print and mailing specialist Sattler Media Group was among the first adopters of the Ricoh Pro Scanner. Christian Haneke, Innovation & Solutions Manager said it enables the documentation of print standards at any point in the production run and maintains optimal quality. It also minimises setup times and improves the Ricoh Pro VC70000's overall availability.
RICOH Supervisor™ removes the manual entry of data
RICOH Supervisor removes the manual entry of data and helps gain greater insight into press utilisation. It tracks operational trends that impact production, delivers organisation-wide visibility with customisable dashboards and understands job throughput and device issues which may cause missed deadlines. It assesses throughput trends to ensure the right level of staffing is in place and identifies operator issues based on how presses are performing for each shift.
These applications collect information through a continuous feedback loop directly from clients' workflow so the AI can discover patterns. As a result of the more accurate and efficient workflow process, PSPs can then build even stronger relationships with their clients.
Key applications for RICOH Supervisor™ with artificial intelligence
Allow operators to focus on profit-generating work by automating the makeready.
Improve uptime with scheduled tasks and notifications so operators are proactive, not reactive.
A better understanding of ink costs and how improvements can be made.
Aid optimal performance by tracking jet outs, verifying ink density, and detecting out-of-registration print for optimal performance.
Help determine the best time for new hardware purchases via utilisation insight.
Make process adjustments for optimal profitability by monitoring the team's efficiency.
Adapt to upcoming needs by understanding current production capacity.
This suite of future-ready artificial intelligence-enabled tools also enables PSPs to spend less time training staff. They also allow for more time to produce unparalleled work that generates high profits.
Collectively they make intelligent improvements throughout the print production process to streamline, enhance, and elevate quality, productivity, and profitability.
If you are interested in introducing AI into your print operation contact Ricoh to learn more.
Alternatively, read our article Increasing Print Profitability – A Four-Step Guide to discover further ways to improve your print operation;