27 Jun

'What is the purpose of the office?' In-depth insights from leading Facilities Managers
Working from home was once an occasional treat for office workers, but then the pandemic changed the purpose of the office. So what should the future of the office look like? New research by the Institute of Workplace and Facilities Management (IWFM) and Ricoh is starting to paint the picture.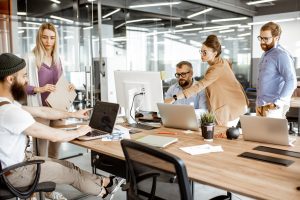 It's a question on the minds of decision-makers across the country, and they're coming up with different answers. Some businesses are insisting on a total return to the office. Some now conduct their entire operations remotely. But most understand that hybrid working is firmly established, and employees expect to enter their office just two or three times a week, leading to a changing understanding of the purpose of the office.
With so much opportunity at stake and uncharted territory to explore, there's natural anxiety about the best way to move forward. This article will explore what the IWFM and Ricoh discovered through interviews, polls and research and how these insights will help you define your office for a dynamic new era. 
We interviewed leading figures in the facilities profession, across a range of sectors, to get their insights on hybrid working, digital transformation and cybersecurity. 
What is a Facilities Manager?
First, let's establish the credentials of the people we're talking to. A Facilities Manager is the glue that brings individual teams in your business together and ensures everyone is working towards a collective goal.
They're a pivotal part of the leadership team. They can act as a single point of contact for your IT and HR teams – placing them in a powerful position to drive culture shift, create a sense of community, and ensure your people have the processes and technology they need for success. 
Throughout the article, you will read first-hand accounts of the facilities managers we interviewed.
Why is hybrid working an important topic?
Working from home is now accepted practice for most office-based organisations. But in-person interaction regularly is still vital for creativity, culture, and personal development. So, an office space needs to provide opportunities that cannot be achieved at home to encourage people to attend.
What did leading Facilities Managers say about hybrid working?
One of our respondents, David Carr from Bouygues E & S UK Limited said: "There is a new rhythm of life, and what we're saying to our people is that you should identify what you're doing and go to the right place to do it.
We give the responsibility to the individual, but we do have quite strong management guidance just to make sure that people are settling into the proper new way of working."
Every respondent approached the question about hybrid working from a unique angle, tailored to their experiences and role within their industry – but there were common themes that apply to any business, such as:
Hybrid is here to stay – We will never return to pre-2020 patterns.

There are benefits to both home and office working – Decision makers cannot afford to miss out on the benefits of either.

People are at the heart of your office – The purpose of the office is essential. Design your premises to deliver on collaboration, conversation, and culture.
Why is digital transformation an important topic to the purpose of the office?
Digital transformation was already happening before the pandemic, but it rapidly accelerated as the business world adapted to change and adopted new ways of working. It continues to be vital when delivering efficient and agile workplaces, serving clients' needs cost-effectively and measuring office metrics that will allow you to evolve how you operate.
What did leading Facilities Managers say about Digital Transformation?
Another respondent, Stan Mitchell from Key Facilities Management said: "Digitalisation is with us in the FM industry: the issue is about how you demonstrate the return on investment. There's no point in us saying it's a great idea to digitalise something if it's just technology for technology's sake. But where technology can be evidenced as adding real value, our sector FM has to go out there and promote that and make organisations aware of it."
Andrew Hulbert, Pareto FM also commented: "Being digital gives you the ability to change and to flex. What I also like about digital processes is that you can run one process over here, but you can test another process over there at the same time."
Digital transformation is a broad subject that means different things to different industries – which is a big reason why the IWFM identified it as a rich and insightful topic to discuss with our interviewees – but just like with hybrid working, there are key insights you can extrapolate across the board:
Digitisation offers the opportunity to gather valuable data

But data capture is meaningless without people who can analyse it effectively

Many organisations are looking to use new sensor technology to understand their office space and usage more

Older workers can sometimes struggle with digital processes – it is the organisation's responsibility to offer training
Why is cybersecurity an important topic?
Cybersecurity is a growing concern for organisations. As hybrid working is adopted more and more, and your people work on multiple devices in various locations, it's crucial to ensure that they're doing so safely and securely.
What did leading Facilities Managers say about cybersecurity?
David Carr from Bouygues E & S UK Limited commented: "FM's role in cybersecurity is key.  The biggest risk factor in cybersecurity is people's behaviour.  We need to make sure that our people are incredibly conscious of cyber security. Which means organising awareness exercises with our people."
Respondent, Andrew Hulbert, Pareto FM also said: "Cybersecurity is something we take incredibly seriously. We carry out regular testing on our systems and we employ an external company to try and hack us. The first time they did it, they hacked us within about five minutes and turned off all of our Internet. We invested in some new hardware and since then we've never had any successful attacks."
While cybersecurity is often under the remit of IT teams, Facilities Managers play a key supporting role. They ensure that staff are educated and aware of potential threats. Staff are also careful not to make themselves or their business vulnerable. Here are some key insights from the research: 
All staff must be trained to be super-conscious of the dangers of careless clicking on hyperlinks.

Communication between IT and Facilities Management teams is a crucial cog in the wheel

If you do get attacked, you must have a plan B
We have produced an extensive report on the future of the workplace. Follow the link here – IWFM-Ricoh-The workplace now and in the future.