06 Jul

How to get started with Hybrid Office Design
Once everyone agrees on hybrid working, where do you go next? In this article, Mark Preece, Sales Director for Communication & Workplace Services, explores why Hybrid Office Design is your next priority, how to get started, and some examples of organisations redefining workspaces in 2022.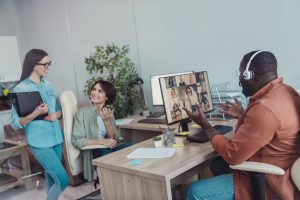 Organisations that understand hybrid working and hybrid office design, understand that it's not just about giving people the freedom to work from home. 
Hybrid, by its very nature, supports multiple working environments. To succeed, you need to create a seamless experience between remote locations and offices so your employees feel supported to be flexible and empowered to collaborate with colleagues from anywhere.
There are also two very timely external reasons to consider hybrid office design:
1. The talent market is more competitive than ever. For the first time since records began, there are more job vacancies in the UK than candidates. To attract high-quality, diverse individuals and retain your best talent, you need an exceptional hybrid working experience. 
2. The RICS Commercial Property Market Survey recorded an increase in the demand for office space in the UK, up 30% in 2022 Q1. Regardless of what the press says, organisations are returning to and investing in office spaces. To stay competitive, you need to keep up with this movement. 
So, let's unpack the five steps you need to take to redesign your office for hybrid working and some examples of organisations leading the way. 
Speak to your people
To ensure any change in your workplace will succeed, you first need to understand your people, the way they work and what is important to them. You can do this through surveys, interviews and observations.
The average workplace is only utilised to 35-50% of its potential. Without an understanding of your office, and how it is currently utilised, it is impossible to know if you are making the right decisions and receiving the expected ROI.
Then you need to get buy-in. Studies show that 40% of office workers waste up to 30 minutes a day searching for space to collaborate, so you'd hope they'd be keen for change. 
Calculate the value of your space
Desk space is expensive. The average desk space in London costs £593 per month. Meeting space is even more expensive. Even more so as utilisation rates are low. 
To effectively plan and work out the most successful hybrid workplace, you need to know what value your space has and the potential costs. This way you can reinforce your plans with a robust business case and highlight key recommendations for the future.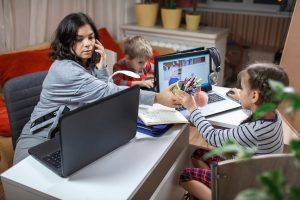 Understand how your spaces are used
Knowing whether a space is occupied or not is essential, but it's not the complete picture of hybrid office design. To create a workplace that empowers your people and hybrid working, you also need to understand:
Space utilisation rates – knowing when spaces are used, and the availability of that space assists you in making decisions about the type, number and size of facilities needed.

Resource usage – looking at the resources your people are using and the tasks they help to achieve lets you plan which investments to make.

How your people work together – understanding the way your people communicate allows you to identify the location, number, size and style of spaces needed.

When workspaces are not used – tracking indicates whether you need to look at different options such as the introduction of collaboration zones or the development of new processes like ad hoc booking systems.
As well as the qualitative data such as the relationship between teams e.g. should HR, facilities and IT be close together when they're in the office? Do teams need a dedicated collaboration zone or a hot desk? Are your meeting rooms used for quick conversations, board meetings or phone calls?
Make a plan and execute
Once the research is done and you understand your people, process, technology and workplace, it's time to make a plan.
First, take the data from your occupancy study and answer each of the following questions:
How many meeting rooms do we need?

What types of meeting rooms should we have?

What booking system should we install?

What other resources and technology requirements are there?

How will we measure and report on utilisation?

How can we communicate through our office space using digital signage?
Once you've mapped out your functional requirements, move on to the aesthetics. Create design mood boards for each room, including furniture styles and colours. Your people will spend a lot of time in these rooms, so it's important to create welcoming spaces that people want to use and get value out of.
Finally, it's important to keep staff involved as you go. Asking them for feedback and inviting them to get involved will help them feel like they're part of the process. It will also help you get more insights into what they want and design something that will be truly useful.
Review your approach
Once you've rolled out your changes, you should introduce regular opportunities to review your workplace and look for improvements. These reviews should consider key metrics like employee engagement, retention, cost savings and occupancy.
Creating the future of the office with EasyJet 
We implemented RICOH Spaces for EasyJet to support flexible hybrid working, enable a safe return to work after the pandemic, facilitate greater employee collaboration and enable cost-effective use of space at its HQ.
Currently, employees are recommended to come to the Luton HQ campus up to three days a week based on a role-driven approach. To book a workspace, easyJet employees now simply use the RICOH Spaces mobile app or web browser and scan a QR code on the reserved desk to log their arrival. 
Processes are also in place to safeguard workspaces for people that are critical to the operation on-site, as well as to ensure everyone feels safe at work. The Property Team at easyJet actively uses the reporting tools within RICOH Spaces to explore current and historic workspace usage and assist with future changes. Find out more in our case study here.
If you would like to chat about Hybrid Office Design and how RICOH spaces could help you, contact me today. By working with Ricoh, you can purchase single or multiple components of our spaces package. Remove the hassle of dealing with multiple vendors and pursue a global approach.