26 Jul

How to optimise Hybrid Working
You probably have a hybrid working policy, but are you satisfied your employees have the best experience at work? Mark Preece, Director of Workplace Services, shares some essential tips on optimising hybrid working.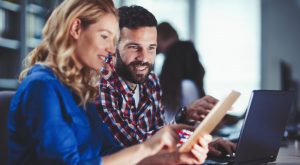 Since the pandemic, work has undergone a profound transformation. After two years of virtually everybody working remotely, hybrid working was inevitable, especially as 12% of people were already in some form of hybrid work before 2020. 
Most organisations have hybrid or flexible working practices in place now, but many are still struggling to strike the right balance. You only have to look at social media to notice the confusion and rumination hybrid is causing.  
It's hard to imagine, but even conventions like the 40-hour work week took decades to settle into the collective consciousness. Any change on this scale won't happen overnight. 
Let's look at what you can do to ease hybrid working within your organisation and ensure your people and productivity thrives. 
Technology for the hybrid workplace
Understanding what hybrid workers need is crucial to keeping everything on an even keel. How do they want to move forwards? What are the resources and technology they need?
To minimise wasted time and tears, clarity and a system that allows for flexibility while also implementing policies are essential. 
Without the right technology in place, the transition to hybrid working can become messy. For every individual that switched seamlessly, another faced the daunting task of balancing work, childcare and adapting to new tech all in one go.
These difficulties can be mitigated by communicating and empowering people. With the right technology, hybrid work can reach its lofty goals of creating a new rulebook for how people engage with the office.
People make hybrid work
Employees have more power in the workplace than ever before. While this has been an overall benefit to people's mental health, personal wellbeing, family setup and childcare time, it has also meant that employers have had to adapt to the new power balance. 
The primary basis of hybrid working should be keeping in touch with your employees. This can also mean significant changes to the office itself, with more of a focus on collaboration and socialising. 
You can find out more about how your office can become better suited to a hybrid arrangement with our blog covers an in-depth take on the subject: How to get started with Hybrid Office Design.
So, how should organisations approach hybrid working?

 
Ultimately, you need to focus on creating the best working experience – this is a task for all areas of the organisation, from Facilities Managers to HR departments to business leaders.
But don't expect to find a quick and easy solution. Take each day as it comes, gain regular feedback from them and see every obstacle as an opportunity for improvement. 
The different moving parts of the company require a different approach to ease their transition into hybrid work, and whether you are in facilities, HR or general management, using the right tools for the job will be vital. 
Facilities management
Facilities Managers have always been focused on the efficient and effective delivery of support services for the organisation they serve. In the current circumstances, this has never been more important.
In the face of new challenges, Facilities Management teams within businesses must navigate the practical elements and implementation of safety, efficiency and continuity in the workplace and beyond. They need to ensure that people feel safe and understood.
HR teams
During hybrid working, it's key that the right support networks are in place to enable your people to work flexibly. 
This isn't just about listening and providing assistance where needed; it's about proactively showing that your people are at the forefront of every business decision. This will help reassure them they are very much part of any workplace changes.
Business leaders
Suppose business leaders make people rigidly follow hybrid working policies. In that case, they could fail. Instead, business leaders need to learn and test new ways of working.  They must work with people individually to ensure hybrid working success.
Businesses that are willing to engage in innovation and take advantage of the tools available are going to have the easiest time getting the best out of their employees and building a relationship that is collaborative and cohesive.  
This could mean the implementation of cloud technologies, the latest collaboration tools and any necessary hardware for each individual. And if you're at the start of your journey, why not read our blog on building a business case for hybrid working.
Let's co-create your hybrid workplace
Do you need help identifying exactly what your business needs to empower your staff in the hybrid workplace? A people-first partner like Ricoh can help you build the perfect package for your organisation.
We can assist you in identifying where your company needs to improve and what is presently working well, find out about our people-focused solutions and innovations here.